European citizens living in Wales before Brexit needed to apply to stay by 30 June 2021. Over 6.4 million applications had been made to the UK Government's EU Settlement Scheme (EUSS) by 31 January 2022. The EUSS remains open to receive late applications and second applications from those seeking to convert a temporary status to a permanent one.
European citizens' rights are protected by the UK-EU Withdrawal Agreement, and other agreements with non-EU countries, as part of Brexit. The UK and EU disagree on how the treaties are interpreted. The Welsh Government's Minister for Social Justice, Jane Hutt, is responsible for EUSS-related activities in Wales.
This article looks at applications from European citizens living in Wales using the latest statistics (to 31 December 2021). It explains the ongoing UK-EU dispute over the rights of their citizens and summarises some developments closer to home.
Our previous article covers applications received immediately after the deadline.
Overview
104,040 applications were received from Wales, including 18,060 applications for those aged under 18. 99,860 applications were decided by the end of 2021.
Successful applicants are granted either 'settled' or 'pre-settled' status.
Settled status: European citizens who have lived in the UK for more than five years are granted settled status and can remain in Wales indefinitely, with some exceptions.
Pre-settled status: European citizens who have lived in the UK for less than five years, but arrived before 31 December 2020, are granted pre-settled status. This expires after five years and must be converted to settled status via a second application. Failure to reapply results in the automatic loss of a person's right to work, access housing, education and benefits, and they could be liable for removal from the UK.
This is contested by the EU and is also being challenged domestically by the body responsible for monitoring European citizens' rights in the UK, the Independent Monitoring Authority (IMA).
Our infographic shows the percentage and number of applications from Wales. It shows whether they were received before or after the deadline, whether they received a decision and the outcome.
EUSS applications from Wales by date, concluded applications and outcomes by percentage and number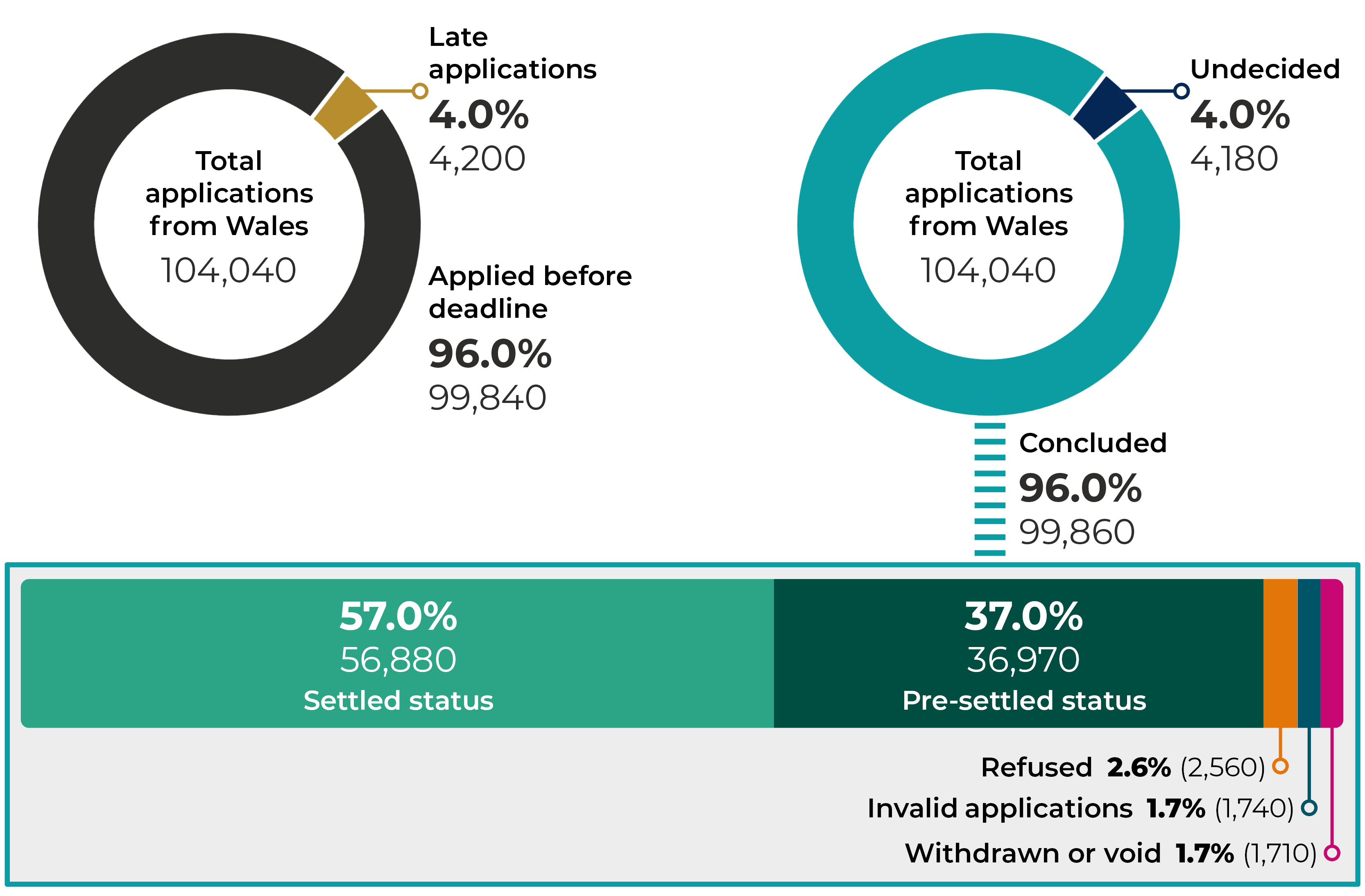 Source: UK Government EU Settlement Scheme quarterly statistics, December 2021
Pre-settled citizens
Pre-settled status expires after five years. This means that the 36,970 pre-settled citizens in Wales will need to make a second application for settled status if they want to stay beyond five years.
The interactive map below shows the number of pre-settled citizens in each Welsh local authority area as of 31 December 2021:
Source: UK Government EU Settlement Scheme quarterly statistics, December 2021
The number of those applying to convert their status from pre-settled to settled status is captured in statistics on repeat applications. UK-wide statistics show that 289,180 pre-settled citizens moved to settled status. Information by UK nation is not provided. This means we do not know how many applications have been received from pre-settled citizens in Wales trying to convert their status. The Senedd's Equality and Social Justice Committee asked the Welsh Government whether it had more information but none was provided.
Late applications
Late applications are allowed for those with reasonable grounds for missing the deadline, such as a parent has failing to apply on behalf of a child or where a person has a serious medical condition. The UK Government has promised to protect the rights of late applicants until their application, and any appeal, is decided.
The number of late applications from Wales increased to 4,200 on 31 December 2021 from 2,340 on 30 September. In October, 790 late applications were received, followed by 570 in November and 510 in December. The chart below shows how December marked the lowest monthly number of applications received from Wales since the EUSS opened in March 2019.
EU Settlement Scheme monthly applications received in Wales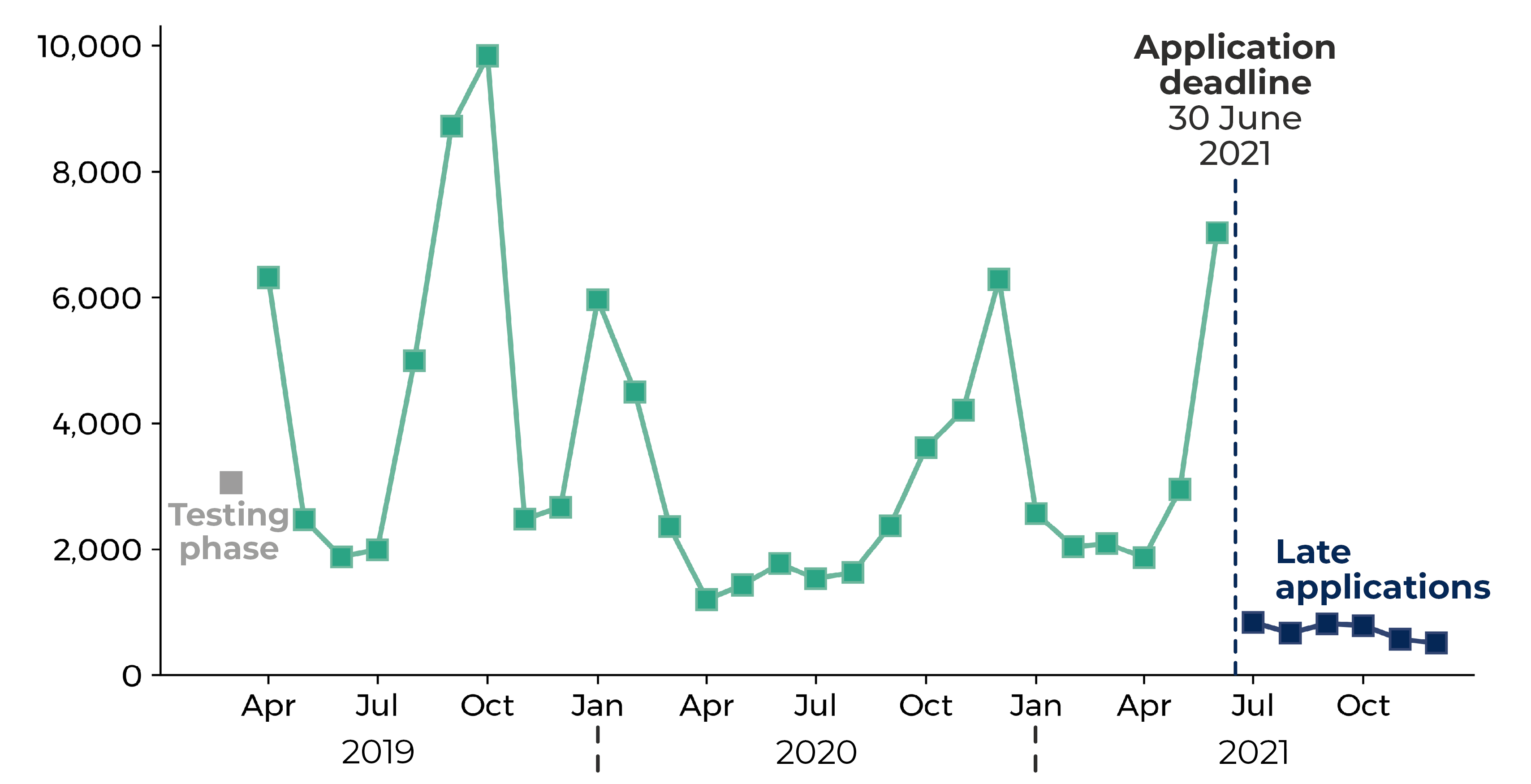 Source: UK Government EU Settlement Scheme quarterly statistics, December 2021
UK-EU issues persist due to different interpretations of the Withdrawal Agreement
The UK and EU meet regularly to discuss citizens' rights. Meetings are held at the Withdrawal Agreement's Joint Committee and its Specialised Committee on Citizens' Rights. The Welsh Government doesn't attend but meets fortnightly with the UK Government to discuss the EUSS.
Following the Joint Committee meeting on 21 February, the UK and EU described citizens' rights as "a top priority" and followed up on concerns shared at January's Specialised Committee meeting.
The EU is concerned about the automatic loss of status in the UK as a result of failing to convert from pre-settled to settled in time, and the lack of legal certainty for EU citizens. The UK has concerns around the equivalent schemes of EU Member States, including a lack of policy detail, guidance and flexibility. The next meeting is scheduled for mid-2022.
Under the Withdrawal Agreement, disputes about citizens' rights can be escalated to an arbitration tribunal, which can request a ruling from the Court of Justice of the EU (CJEU) in certain circumstances.
The Welsh Government will share new information with the Senedd
In response to correspondence from the Equality and Social Justice Committee, the Minister explained that the EUSS "remains a priority". She advised that the EUSS Co-ordination Group agreed to the Committee's request to share its meeting minutes for as long as the group continues to meet.
On 3 March, the Minister also announced that the Welsh Government's free advice and support, available to European citizens has been extended until "at least" 30 September 2022. She explained that the extension will "ensure that services are able to provide support to citizens, including Ukrainian nationals, who may wish to join family members who are already settled here in Wales." This forms part of the support announced by the Welsh Government in response to the Russian invasion of Ukraine.
The Senedd will host a UK-EU meeting next week
On 18 March, the Senedd will host the EU's Committee of the Regions UK Contact Group meeting. The group was established after Brexit to facilitate communication between local and regional authorities in the EU and the UK's cities, regions and devolved governments. The Senedd is represented by Laura Anne Jones MS and Alun Davies MS.
The meeting will welcome representatives from across the EU to meet with members of the Senedd and the Welsh Government. The rights of European citizens living in the UK and UK citizens living in European countries will form part of the discussions.
---
Article by Sara Moran, Helen Jones and Joe Wilkes, Senedd Research, Welsh Parliament