Bus services are essential for many people. But in Wales, like most of the UK, passenger numbers have been decreasing for years, and the pandemic accelerated this trend.
In March the Welsh Government published a White Paper proposing bus service governance reform. Change has been planned for some time, with a Bill introduced in March 2020 only to fall as a result of the pandemic.  However, the White Paper offers a more fundamental change and, with services on the ropes, the stakes are even higher.
What's happened to bus services?
Passenger numbers have been declining across Great Britain, outside of London, for a decade. Many factors are behind this trend, like increased online shopping, alternatives to bus travel, and changing public attitudes. Increased congestion is a key factor affecting bus service viability.
Index of passenger journeys on local bus services by country and year (excluding London)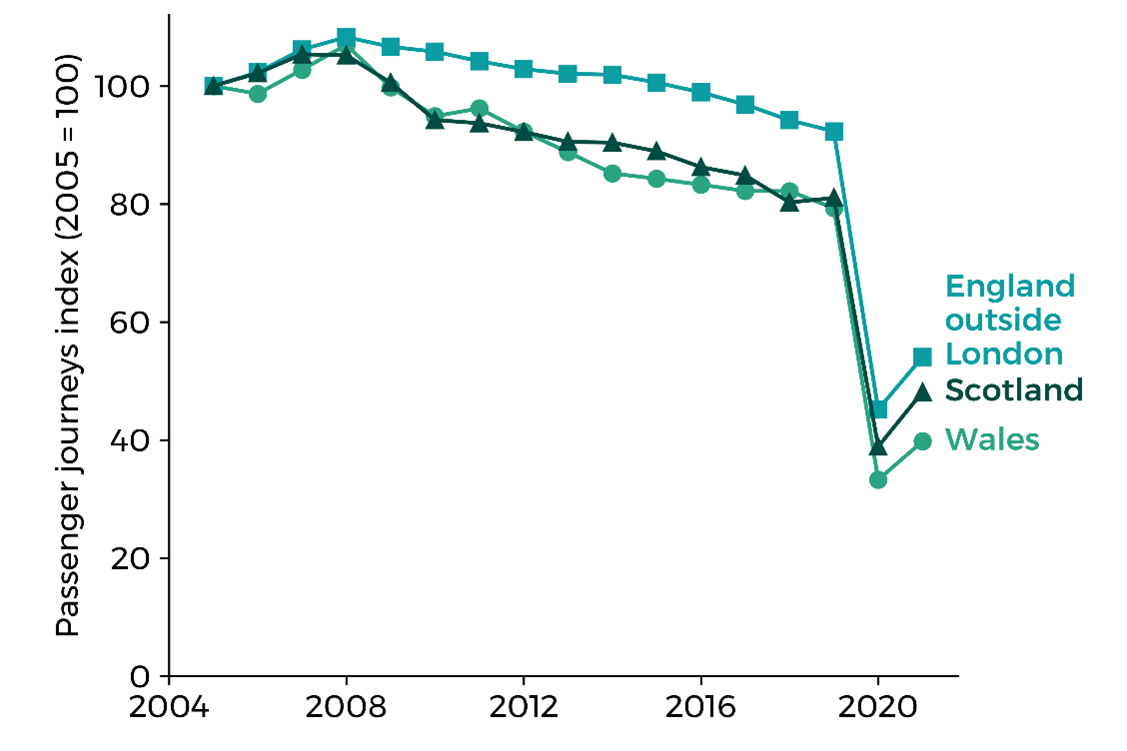 Source: Department for Transport
The pandemic shattered services. Demand has remained low following initial health concerns and advice against using public transport. The Welsh Government has had to continue to its Bus Emergency Scheme support for operators.
The Confederation of Passenger Transport estimates that "on the current trajectory" Wales will only reach 90% of pre-pandemic levels by 2030.
Something must change if the Welsh Government is to hit its modal shift targets.
Why does this matter?
Surface transport represents 14% of Welsh carbon emissions, so public transport recovery is key to meeting climate commitments,.  
But bus travel is also essential to address social deprivation. Transport for Wales (TfW) said 13% of Welsh households don't have access to a car, and 25% of bus users have a disability or long-term illness. Sustrans's Cymru's recent report says living in transport poverty "is a widespread experience today" in Wales.
University of South Wales research monitoring the impact of the pandemic on access to public services by bus found the most deprived areas saw greatest decline in access due to Covid.
What's the Welsh Government proposing?
The White Paper, One network, one timetable, one ticket: planning buses as a public service for Wales, published alongside a wider bus strategy, proposes to:
require bus franchising throughout Wales;
permit local authorities to establish new municipal bus companies; and
relax restrictions on existing municipal bus companies.
The draft Regulatory Impact Assessment explains how the bus sector in Great Britain, outside London, has been deregulated since 1986. Operators are responsible for planning most services, tickets and fares. Local authorities have a duty to secure an effective network, but have only limited powers (and funding) to fill gaps in the market.
The RIA says this:
…. produces a complex landscape for planning and service delivery of public transport, with a fragmentation of responsibilities, which means that the bus sector is unable to respond in a cohesive and strategic manner to the challenges of long-term declines in ridership.
Franchising is the key element of the White Paper. The public sector would plan services, with local authorities, regional Corporate Joint Committees, TfW and the Welsh Government collaborating to design networks to meet public need within available funding. Operators would bid for contracts to run services to the franchising authority's specification.
The Welsh Government, rather than local authorities, would be the 'franchising authority'. It would take the revenue risk, receiving fare income and paying operators a fee.
The White Paper also proposes to permit local authorities to run their own bus services – currently prohibited except under specific circumstances.
Does this differ from the previous Bill?
The pandemic forced the Welsh Government to withdraw the Bus Services (Wales) Bill in March 2020.
That Bill provided local authorities with two statutory 'tools' - 'Welsh Partnership Schemes' and 'Welsh Franchising Schemes'. Both were updates to existing statutory approaches.
Unlike the White Paper plans, neither was mandatory. Local authorities themselves would be franchising authority if they decided on that approach.
Like the White Paper the 2020 Bill would have removed restrictions on local authority bus operations. And it also addressed information provision by operators.
Senedd Research's March 2020 research paper described the development of the 2020 Bill.
What's happening elsewhere in Great Britain?
Many countries in Europe and further afield use franchise type models. However, currently London is the only part of Great Britain using franchising.
Recent Scottish and English legislation has sought to reform bus service governance. However, neither Act makes franchising mandatory.
For England, the Bus Services Act 2017 gives Mayoral Combined Authorities the option to implement franchises. Regulations are needed to allow other local authorities to do so. It also legislated for 'Advanced Quality Partnerships' and 'Enhanced Partnerships', and makes provision for information sharing. Unlike the Welsh proposals, it stops local authorities establishing new municipal bus companies.
Currently Greater Manchester is implementing franchising, following a legal challenge, having begun the process in 2017. Liverpool City Region, Cambridgeshire and Peterborough Combined Authority, West Yorkshire Combined Authority, and South Yorkshire Combined Authority are also considering this approach.
The Scottish Parliament passed the Transport (Scotland) Act 2019, which gives local authorities the option to franchise, or alternatively use Bus Service Improvements Partnerships. However, these powers have not yet been used. The Scottish Act also permits local authority bus companies and addresses information provision.
What have stakeholders said?
The consultation outcome hasn't been published yet. However, the Senedd's Climate Change Committee inquiry into the future of bus and rail services found mixed views on the proposals.
The Campaign for Better Transport called the White Paper "a very welcome and ambitious vision", but highlighted a need for funding and public sector expertise.
In oral evidence the Community Transport Association was "quite excited", saying its members:
… really welcome the aspiration of delivering public buses and an integrated public transport network as a public service, rather than something that is driven by the totally rational aspiration that you need to make money.
Bus operators and local government, while welcoming aspects of proposals, expressed concerns. In particular, they queried affordability and availability of public sector skills to plan networks.
Operators identified risks for SME bus operators. With no guarantee of securing a franchise, they were also concerned about the impact on operator investment, including in electric buses, given there are no guarantees an operator will win a franchise.
Local government saw risks in separating local bus service planning from school transport which would remain a local authority responsibility. It also queried the impact of central procurement on local democracy, and whether any new municipal bus companies would be established.
Passenger watchdog Transport Focus stressed passengers value service delivery not governance arrangements. Service quality will therefore be the ultimate test.
Given the importance of bus services the stakes are high. Will the Welsh Government be rewarded for its ambition or pay a heavy price? Only time will tell.
---
Article by Andrew Minnis, Senedd Research, Welsh Parliament