On the 13th November 2021, following two weeks of negotiation at the 26th United Nations Conference of the Parties (COP26), 197 States Parties signed the Glasgow Climate Pact.
As hosts of COP26, the UK Government's ambition was to strike a deal limiting global heating to 1.5°C compared to pre-industrial levels. Each fraction of a degree of heating increases the risk of extreme weather and sea level rises. Restricting global heating to 1.5°C will help avoid the worst impacts of the climate emergency. Senedd Research has published an article about COP26, outlining its significance and the UK Government's priorities.
The Glasgow Pact sets the global decarbonisation agenda for the coming years. Significant aspects of the deal include:
Alok Sharma MP, COP26 President, stated the Pact "kept 1.5 degrees alive" but with a weak pulse.
Meeting the Glasgow commitments
The success of the Glasgow Pact will depend on the follow-up actions of its signatories over the coming years. Wales is not signatory to the Glasgow Pact but its carbon emission reductions are included in the Nationally Determined Contributions (NDC) of the UK as a whole. Wales accounts for around 10% of UK emissions.
Climate change is a devolved issue, and the Welsh Government sets its own emissions reduction targets. It has set a binding target for Wales to reduce its emissions 63% by 2030 and achieve net zero by 2050. Net zero means a balance between emissions by source (e.g. transport) and removals by sinks (e.g. trees and peatlands).
The Welsh Government's recently published Net Zero Wales plan sets out how it aims to tackle emissions in the near term (2021-25), and lays the groundwork for achieving net zero by 2050. Senedd Research has published a briefing on the plan, summarising the ambition, policies, and proposals, as well as Wales's progress to date.
What role did Wales play at COP26?
Members of the Welsh Government and Senedd attended COP26. First Minister, Mark Drakeford MS, said Wales is ready to "play its part" and would use the conference as an "opportunity to learn from others." Chair of the Climate Change, Environment and Infrastructure Committee, Llyr Gruffydd MS, has published his take on attending COP26, stating:
Wales had a good summit- this was an example of what we can achieve as a smaller country on the world stage.
In his post-COP Plenary speech, the Deputy Minister for Climate Change, Lee Waters MS, stated that in his view the deal struck at COP26 was a global consensus on climate action, and necessarily matched the pace of the slowest actors. He highlighted the view that COP26 was an opportunity for regional governments to form alliances and push issues that national governments might be "reluctant" to address.
Wales is a founding member of the Under2 Coalition. Launched at COP21 in Paris, this coalition of non-State Party governments now represents 1.75 billion people and 50% of the global economy. In 2021, it launched its new Memorandum of Understanding (MoU) setting out the coalitions aim to achieve net zero by 2050, and individually "as soon as possible".
In Glasgow, Wales joined new alliances focused on transitioning away from oil and gas production and decarbonising cars, vans, trucks, and buses. These are non-binding; as are many of the pledges made at COP26.
Beyond Oil and Gas Alliance (BOGA)
This alliance of 11 national and subnational governments, led by Costa Rica and Denmark, seeks "to deliver a managed and just transition away from oil and gas production". Wales is one of eight 'core' members, and the only member from the UK.
Despite progress on coal, the Glasgow Pact does not explicitly mention oil and gas. The International Energy Agency has made clear, investment in new fossil fuel supply projects is incompatible with limiting warming to 1.5 °C.
As part of the BOGA alliance, Wales commits itself to ending new concessions, licensing, and leasing rounds for oil and gas production and exploration. It will also set a date to end production and exploration in the areas it has jurisdiction.
Oil and gas licencing on land, intertidal areas, estuaries and coastal inlets is devolved to the Welsh Government under the Wales Act 2017. In launching the alliance, the Deputy Minister highlighted the Welsh Government has granted no new licences and "a number of extant licences have been surrendered or terminated" since the powers were transferred.
In 2020, the core BOGA nations accounted for 0.2% of global oil and gas production. As a member, Wales will aim to work to expand the membership and elevate the issue of oil and gas production phase-out in international climate dialogues.
Decarbonising cars, vans, buses, and trucks
Road transport accounted for 86% of Welsh transport emissions in 2019. To date, the Welsh transport sector has contributed less to decarbonisation compared to other sectors, decreasing only 6.3% since 1990. The following graphic outlines Wales's sectoral emissions and their percentage decrease since 1990.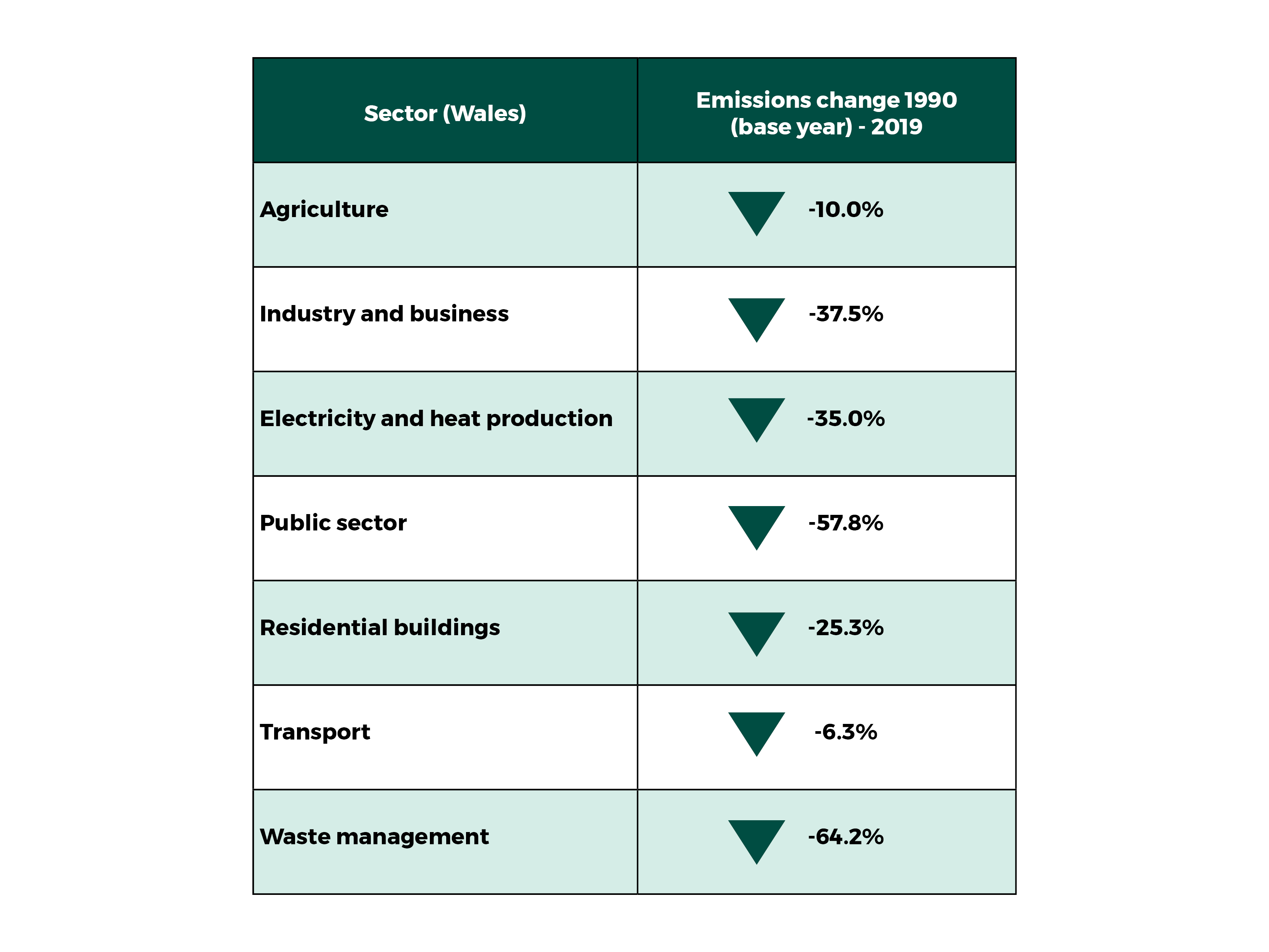 In Glasgow, Wales signed the COP26 declaration on accelerating the transition to 100% zero emission cars and vans. This is a commitment to "work towards all sales of new cars and vans being zero emission globally by 2040", and by 2035 in "leading markets".
Wales also joined 15 countries in signing the Memorandum of Understanding (MoU) on Zero-Emission Medium- and Heavy-Duty Vehicles (ZE-MHDVs). Signatories to the MoU will aim to support ZE-MHDVs reach 30% of sales of new MHDVs by 2030, and 100% by 2040. MHDV manufacturers and fleet operators, such as Scania and DHL, have endorsed the MoU.
The MoU defines MHDVs as vehicles with a gross weight above 3.5 tonnes, which includes buses. In 2019, MHDVs accounted for 14% of Welsh transport emissions. The International Energy Agency highlights that globally bus and truck decarbonisation is not on track to achieve net zero by 2050.
On the subject of decarbonising long distance heavy goods vehicles (HGVs), the Welsh Governments Net Zero Plan states it is "still not clear" which technologies will be most suitable. It notes trials of three technologies (hydrogen fuel cell, battery electric, and overhead catenary systems) will "soon" be underway in the UK.
MoU signatories plan to meet annually to "discuss progress and share experiences to accelerate the deployment of ZE-MDHVs".
What now?
The Glasgow Pact explicitly says there is an "urgent need for multilevel and cooperative action" between all levels of government to realise our climate goals. The UK wide Climate Change Committee has highlighted the key actions the UK should take going forward. Now the pressure mounts to deliver on the pledges of COP26.
Further information
A full list of the decisions taken at COP26 are available here.
---
Article by Will Skinner, Senedd Research, Welsh Parliament
Senedd Research acknowledges the parliamentary fellowship provided to Will Skinner by the Engineering and Physical Sciences Research Council which enabled this Research Article to be completed.