The Senedd will debate the Final Budget 2023-24, Welsh Rates of Income Tax and Local Government Settlement for 2023-24 on 7 March 2023.
The Final Budget 2023-24
Following scrutiny and debate of the Draft Budget, the Welsh Government published the Final Budget on 28 February 2023.
In her written statement, the Minister for Finance and Local Government noted "in addition to the allocations we have already set out in the Draft Budget, the Final Budget 2023-24 includes Financial Transaction capital allocations and a number of administrative changes".
The infographics below summarise the key allocations by government department and how these have changed from the Draft Budget 2023-24.
Welsh Government Final Budget 2023-24 Allocations

Final Budget 2023-24 spend by Department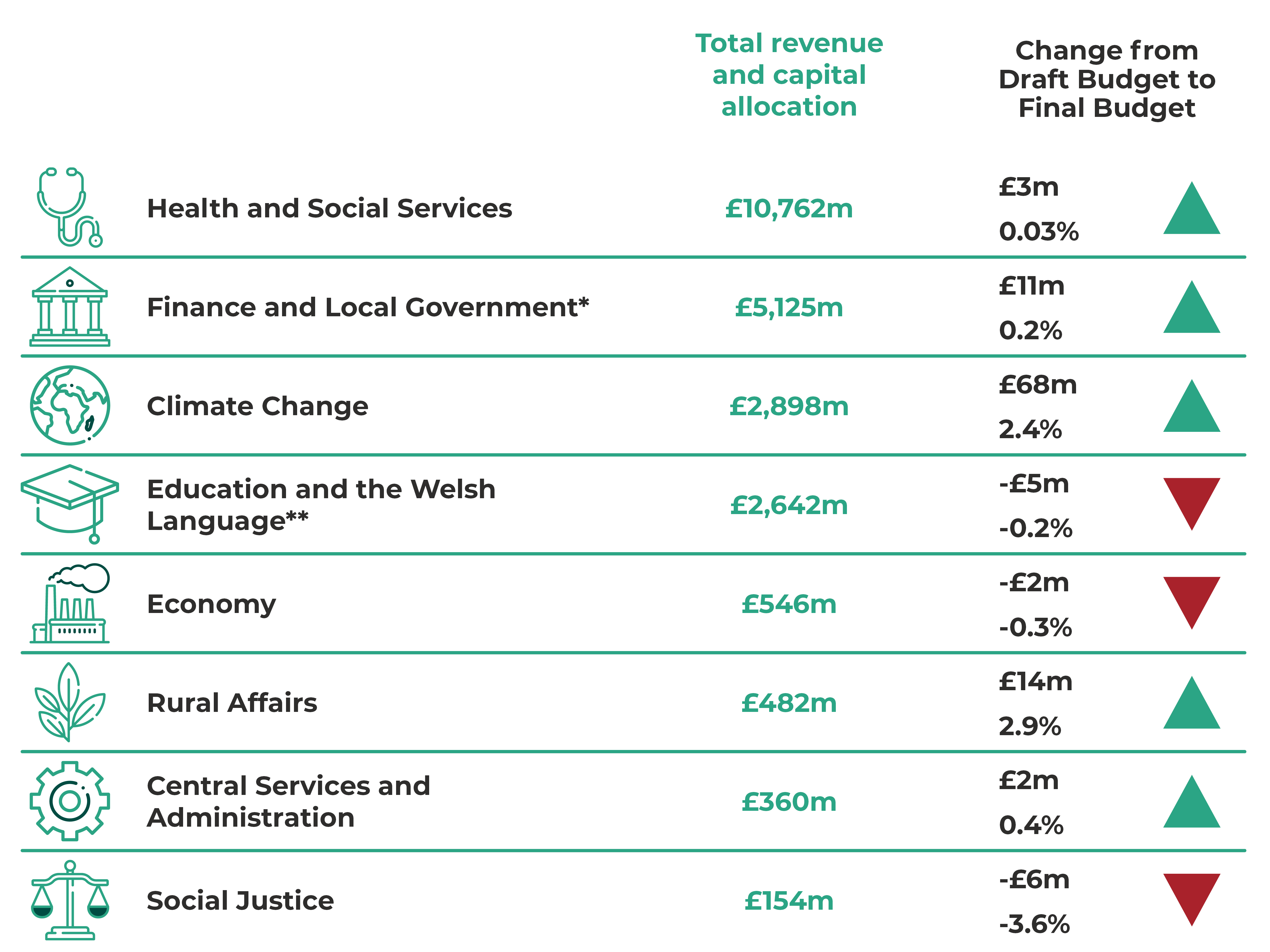 The Final Budget's key allocations can be explored in more detail in our interactive budget visualiser.
Welsh Rates of Income Tax
A debate will also take place in the Senedd to set the Welsh Rates of Income Tax (WRIT). The Welsh Government announced it does not intend to change WRIT for 2023-24. This means taxpayers living in both Wales and England will continue to pay the same amount of income tax.
Final funding for local government announced
Alongside the Final Budget, the Welsh Government has published the Final Local Government Settlement 2023-24. We discussed the provisional settlement, which accompanied the Draft Budget, last month. On a like-for-like basis, core revenue funding across the 22 local authorities was due to increase by 7.9% compared to 2022-23, to £5.5bn. The Minister said responses to the consultation on the provisional settlement "did not identify any matters which required a change of approach for the Final Settlement", going on to say:
… Local Government welcomed the positive increase in the Settlement whilst acknowledging the impact continuing high levels of inflation will have on local authority decisions on budgets and services.
While there have been some small changes to the settlement, including to the distribution of funding for Fire and Rescue Authority (FRA) pensions and adjustments linked to changes in data, the Final Settlement remains a 7.9% increase. No authority will receive less than a 6.5% increase. The Minister also sets out indicative core funding for 2024-25 of £5.69bn.
The Final Settlement provides updated information on grants to local authorities, with revenue grants of over £1.4bn and capital of over £989m in 2023-24.
What next?
The debates will be held on 7 March 2023. You can tune in and watch them on Senedd tv, check the transcript afterwards or follow Senedd Research on Twitter for the latest articles exploring the budget and more.
---
Article by Božo Lugonja, Joe Wilkes and Christian Tipples Senedd Research, Welsh Parliament