The 2021-22 Budget sets out the Welsh Government's spending plans for the next financial year. It outlines how much money is proposed to be allocated to its departments and agencies. The 2021-22 Draft Budget was published on 21 December 2020.
Explore the Draft Budget with our interactive visualisation
Headline figures from the Draft Budget 2021-22, showing cash changes from the Final Budget 2020-21

Total Managed Expenditure (TME): The total amount that the Government has to spend.
Departmental Expenditure Limit (DEL): This is the discretionary element of the budget, where the Government budget is allocated to, and spent by Government departments and agencies.
Annually Managed Expenditure (AME): Non-discretionary spend on demand-led programmes such as the issue of student loans.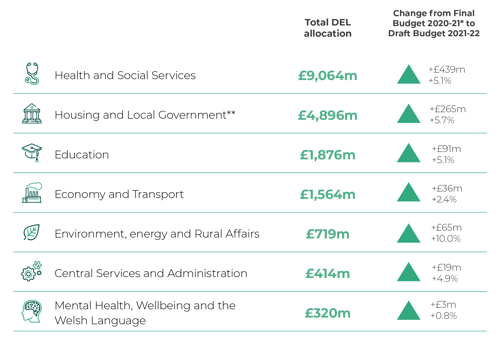 *Restated to enable comparison and including £231m direct payments farm subsidies, but excludes subsequent 2020-21 COVID and other allocations.
**Excludes £1.1bn non-domestic rates income.
Figures are rounded, please refer to the Welsh Government Draft Budget 2020-21 for exact figures.
Further information
Read our article: The Welsh Government's spending plans for 2021-22- what's ahead?
Senedd Research – Financial Scrutiny Unit
Article by Joe Wilkes and Martin Jennings, Senedd Research, Welsh Parliament