The Trade and Cooperation Agreement (TCA) sets up the new UK-EU relationship following the UK's withdrawal from the EU.
Our new UK-EU series summarises key parts of the agreement and what it means for Wales.
This guide explains the post-Brexit institutional framework between the UK and EU, which is summarised below.
Delegations
While the UK is mainly represented by the UK Government, the devolved governments have attended some meetings. Senedd Research recently tracked which meetings the Welsh Government has attended. The EU is represented by the European Commission, although Member States can also attend.
Partnership Council
The Partnership Council supervises and facilitates the implementation and application of the TCA and any UK-EU supplementing agreements.
Committees & Working Groups
The TCA establishes 19 new committees to support the Partnership Council. There are 11 trade committees and eight non-trade committees called 'Specialised Committees' which have different powers. The TCA also establishes four Working Groups, but more can be established.
Civil society
A duty is placed on the UK and EU to consult civil society on the TCA's implementation and supplementing agreements. This includes establishing and/or consulting with Domestic Advisory Groups and a Civil Society Forum.
Parliamentary Partnership Assembly (PPA)
The TCA provides an option to establish a Parliamentary Partnership Assembly (PPA) for parliamentary cooperation between the European Parliament and the UK Parliament. Both have confirmed their delegations will comprise of 35 members, with observers from the devolved legislatures invited to attend.
Infographic
Our infographic below shows these new forums.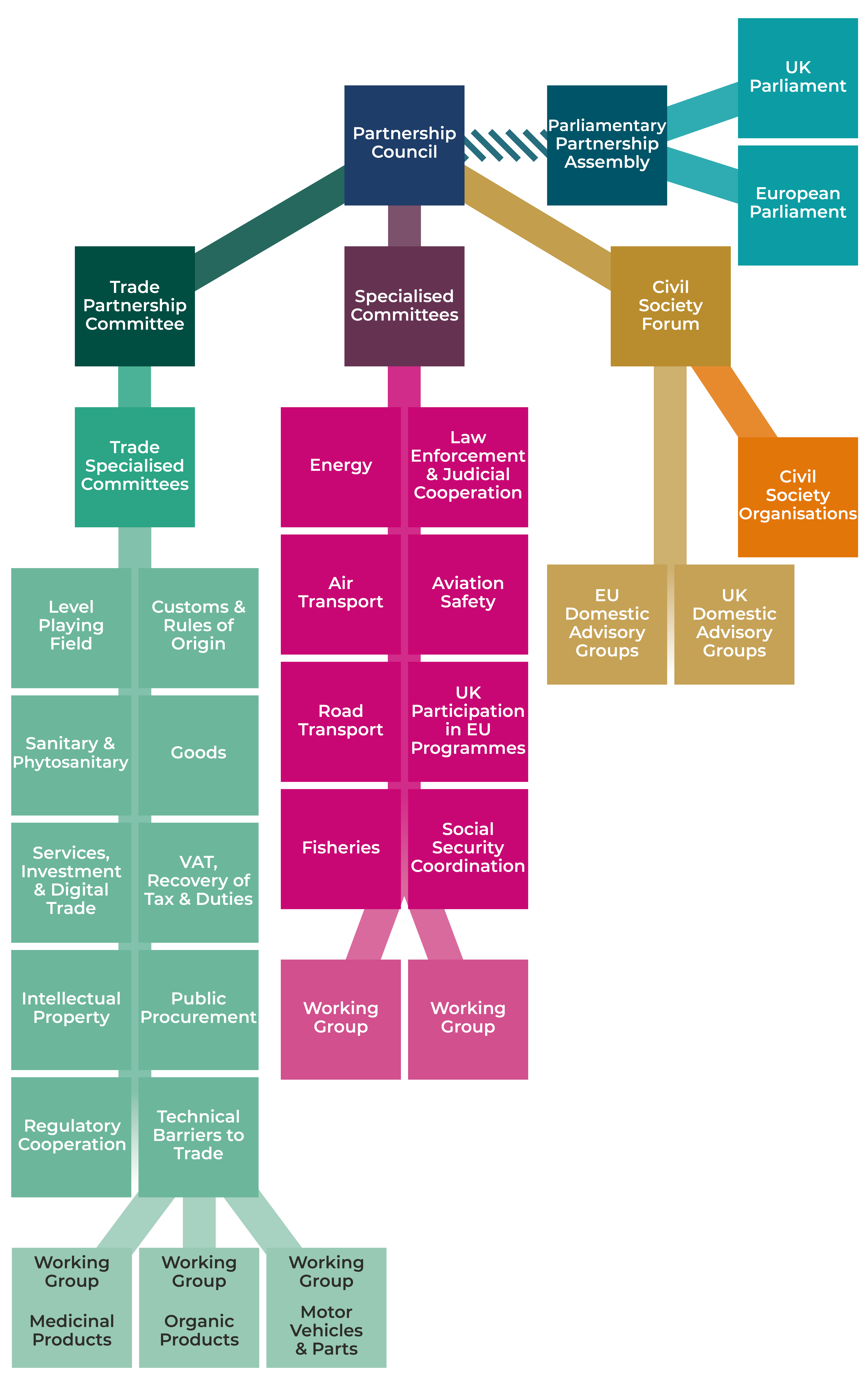 ---
Article by Sara Moran, Senedd Research, Welsh Parliament