Households across Wales are feeling the effects of rising living costs as inflation bites. Disposable incomes are expected to fall by around £800 next year, and there's a grim economic outlook over the coming years.
Read our article to find out how the lowest-income households are being hit hardest by inflation and cutting back on essentials. It also looks at how effective the Welsh and UK governments support is in helping those on the lowest incomes.
Rising costs are hitting low-income households hardest
The Office for National Statistics (ONS) has found that rising energy, food and drink costs, which low-income households spend a greater proportion of their income on, have driven higher inflation for low-income households. The Institute for Fiscal Studies predicted that inflation in October 2022 was 14% for the poorest UK households compared to 10% for the richest households.
Figure 1: Predicted inflation in October 2022 by household income (rounded to nearest %)

Source: Institute for Fiscal Studies, Even with inflation uprating, benefits next year are on course to be 6% below their pre-pandemic levels
The Bevan Foundation found that over half of households in Wales with incomes below £40,000 had cut back on clothing for adults, heating, electricity and water in the first half of this year.
The Trades Union Congress reported that around a quarter of households in some constituencies are missing meals or going without food, with the highest rates seen in Rhondda, Blaenau Gwent and Swansea East.
Figure 2: Percentage of households in Wales cutting back on essential items by household income level, January 2022-July 2022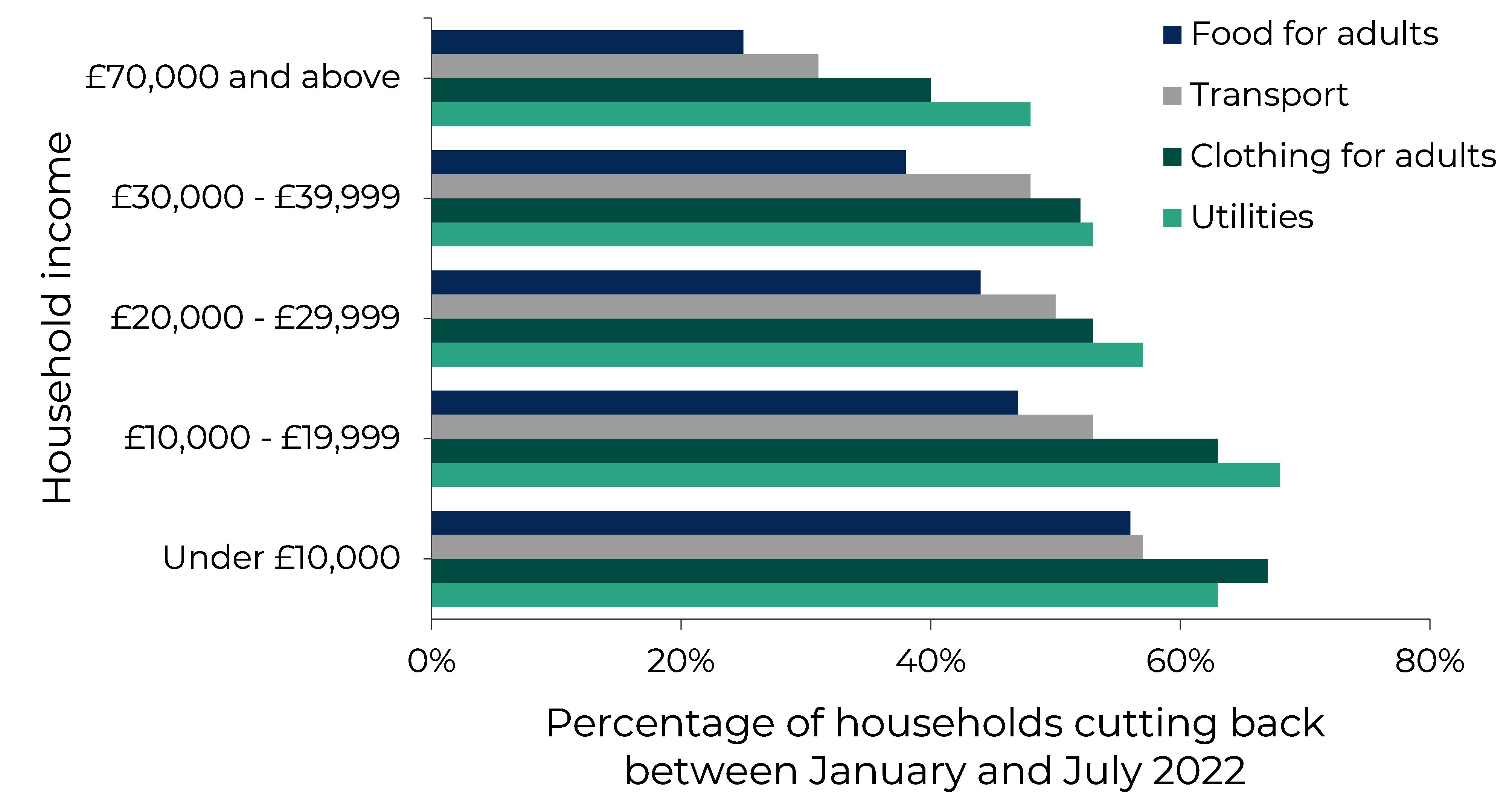 Source: Bevan Foundation, A snapshot of poverty in Summer 2022
Citizens Advice's cost of living dashboard sets out details of how the rising cost of living is affecting the people it is there to help:
Citizens Advice is helping more people with crisis support this year than any other year on record.
Nearly half of people seen by Citizens Advice have a negative budget, where they need to spend more on essentials than their income.
Energy debts are the most common debt people need help with in 19 of the 22 Welsh local authorities.
Our previous articles explain how cost of living pressures e are disproportionately affecting particular groups in society, including people with disabilities and women, with an article on the impact on ethnic minority communities coming soon.
Unable to afford heating, 'till shock' and anxiety – experiences of rising living costs
Earlier this year, people told the Senedd's Economy, Trade and Rural Affairs (ETRA) Committee about the impacts the rising cost of living was having on their heating, eating and mental health.
I've been sitting here over winter with 2 pairs of socks, a pair of slippers, sometimes thermal trousers, another pair of trousers, a thermal top, a jumper and a blanket because I haven't been putting my heating on because I can't afford it." Participant, ETRA Committee focus group
If they (food prices) continue to go up, I'm not going to be able to have two meals a day. I'll be on one meal a day if things increase anymore." Participant, ETRA Committee focus group
You know you get that, what I call, till shock when you get to the checkout. You're suffering from till shock because you haven't got that much in your basket, but it seems awfully expensive and you find yourself checking your receipt before you leave the store to make sure that you're being charged correctly." Participant, ETRA Committee focus group
Me and my partner both work full time and we still struggle. I get massive anxiety. I feel sick and can't eat. I haven't even done my electric bill properly because it's filling me with dread." Participant, ETRA Committee focus group
Low-paid work and the rising cost of living
In-work poverty in Wales has been on the rise for a number of years, and the Living Wage Foundation found that almost four in five low-paid workers said that the current situation was "the worst financial period they have ever faced".
The ONS finds that there has been a large decrease in the percentage of the workforce that is paid less than the hourly Real Living Wage over recent years up to April 2022, although it remains to be seen whether this trend continues through the current period. It also finds that over this period there has been a much smaller decrease in the percentage of the workforce that receives low weekly pay.
While pay growth is at its highest since the coronavirus pandemic, once it has been adjusted for inflation, the latest ONS figures show that regular pay is 2.9% lower in real terms than a year ago. Workers in Wales have had higher pay rises than the UK average, however like workers across the UK these have been below-inflation.
Figure 3: Percentage change in gross median weekly earnings in devolved nations and English regions, April 2021 to April 2022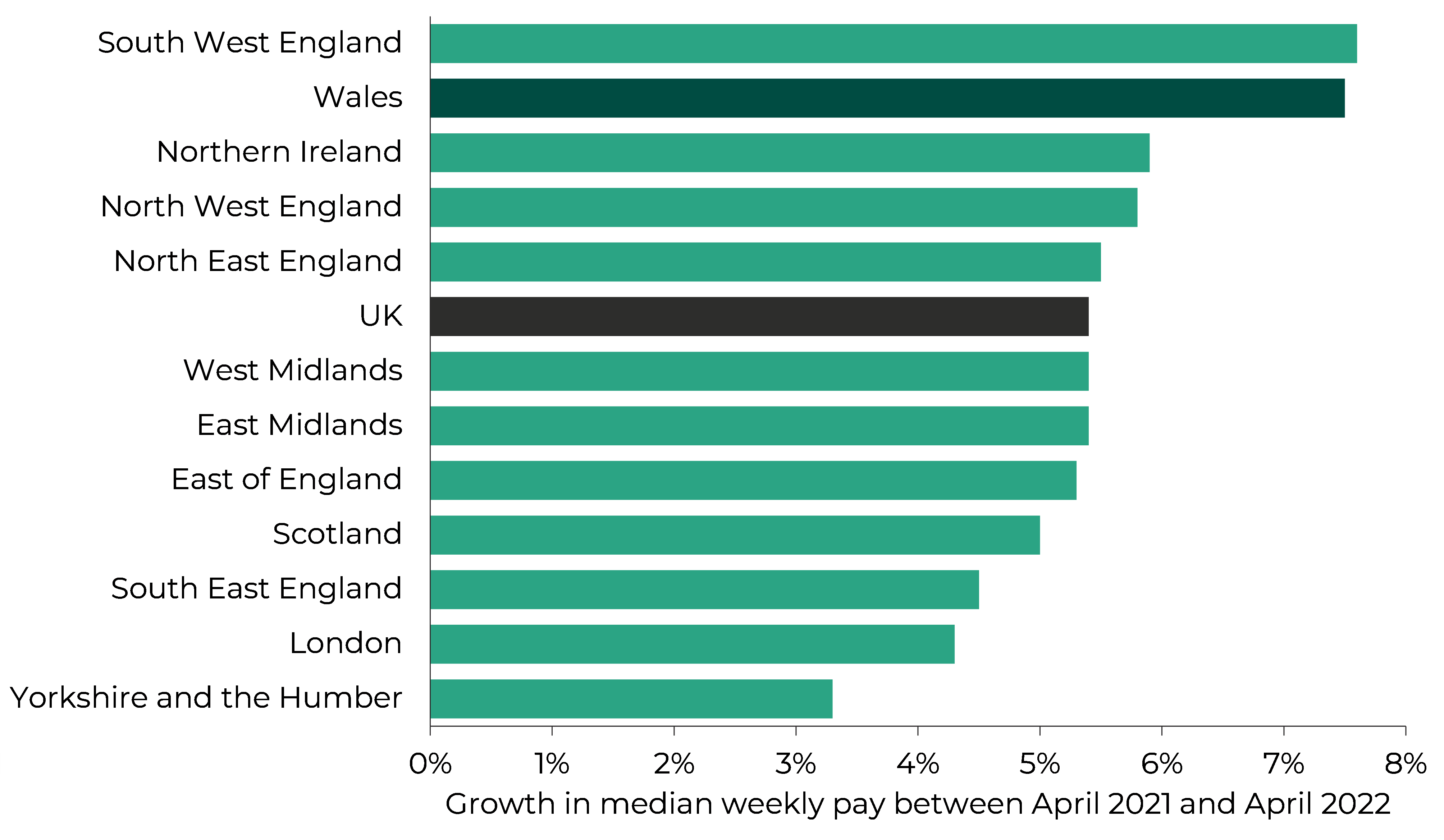 Source: Office for National Statistics, Earnings and hours worked, place of work by local authority
The effectiveness of cost of living support for low-income households
Both the Welsh and UK governments have provided cost of living support over recent months, and a list is available in our guide to cost of living help and information.
The UK Government has provided a mixture of universal and targeted cost of living support. While the Resolution Foundation has welcomed the targeted support measures put in place, it finds that, up until March 2023, the poorest 10% of households will receive less support through UK Government cost of living measures than the rest of the population.
Support provided by the Welsh Government has predominantly been targeted at low-income households. The Bevan Foundation has called for the development of a coherent 'Welsh benefits system' to make it easier to access the different means-tested schemes, and has set out proposals for additional support the Welsh Government should offer. While there has been a relatively high take-up of the £150 payment to households through the Cost Of Living Support Scheme, Welsh Government figures show that a quarter of households eligible for the 2021-22 Winter Fuel Support Scheme did not claim for this payment.
There has been speculation that the UK Government's upcoming budget will increase benefits from in line with average earnings from April 2023 rather than inflation. The Resolution Foundation has said that this would be "disastrous in the context of the cost of living crisis" and would affect households in Wales more than many other parts of the UK. Analysis by the Joseph Rowntree Foundation shows that, within Wales, this would particularly affect constituencies within the Valleys and urban areas.
Figure 4: Percentage of working-age families in receipt of means-tested benefits by constituency

Source: Joseph Rowntree Foundation, New analysis shows vast scale of impact across parliamentary constituencies if benefits don't rise by inflation
What's next?
It's clear that many households are already experiencing significant cost of living pressures, with low-income households particularly affected. The Bank of England believes that economic output will fall until mid-2024, which would be the longest UK recession in a hundred years. Previous recessions have disproportionately affected the poorest, so it's likely that there will be much more for the Welsh and UK governments to do to support low-income households over the coming months.
The Senedd will debate the ETRA Committee's report on cost of living pressures on 16 November.
---
Article by Gareth Thomas, Senedd Research, Welsh Parliament