The development of vaccines to fight COVID-19 has been a remarkable achievement. As of 24 November 2021, Wales has administered 2,465,562 first doses of a COVID-19 vaccine, which accounts for 77.8% of its total population and 2,260,038 second doses, which is 71.3% of its total population. 806,297 people have received a booster or 3rd dose.
Percentage of the total population who have received a first, second and third dose of a vaccine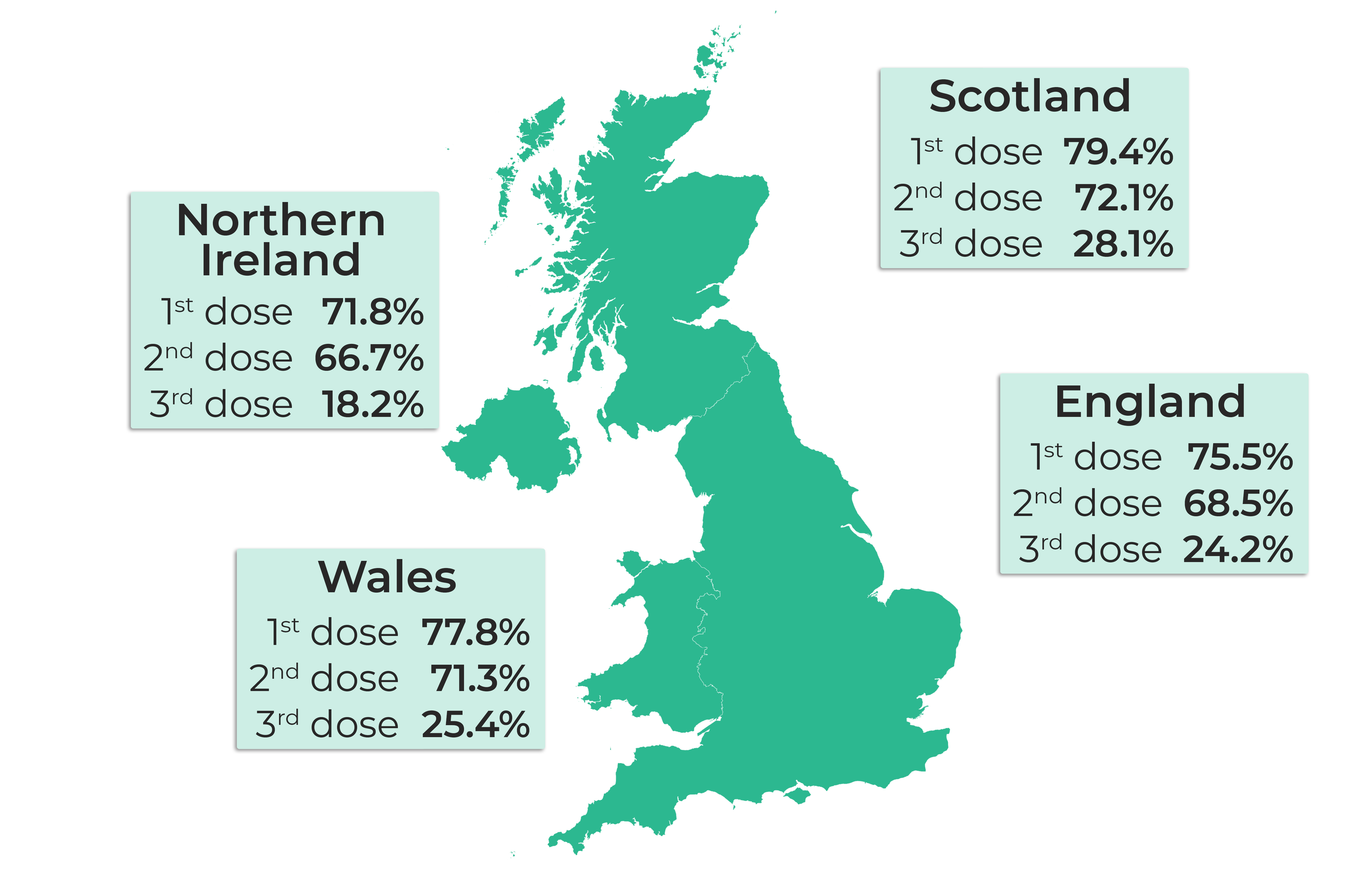 Source: UK Government
Note: The population of each UK nation is based on most recent Office for National Statistics data.
But the immunisation effort is complicated by waning immunity. This article explains why waning immunity matters and how the booster campaign aims to prevent breakthrough infection.
What is waning immunity?
Vaccination is one of the most effective public heath tools, preventing an estimated 4-5 million global deaths per year from disease. Fundamentally, vaccination works by producing a surge of immune cells that generate antibodies and other immune molecules towards a specific pathogen (a virus that can cause disease, such as COVID-19).
Some vaccines such as the MMR (Measles, Mumps and Rubella) vaccine give most people who've received them lifelong immunity. But the levels of circulating antibodies from other vaccines, such as the influenza vaccine and COVID-19 vaccines, begin to wane after primary vaccination. In some instances this can be to levels below that required for successful protection against infection.
Waning immunity, where people immunised against a particular virus lose some of their defensive antibodies can, among other factors, lead to a decrease in vaccine effectiveness. Over time, people who have been previously vaccinated can become at risk of breakthrough infection.
What does the current evidence say about waning immunity and COVID-19 vaccines?
The AstraZeneca and Pfizer vaccines have both been key to dampening the spread and impact of COVID-19. However, there is mounting evidence of waning immunity following the second dose of each vaccine.
A UK based immunology study suggests antibody levels wane over a 3-10 week period after a second dose of either vaccine. A Public Health England study using real world clinical data indicated that vaccine effectiveness against symptomatic disease wanes approximately 10 weeks after the second dose, for both the Pfizer and AstraZeneca vaccines.
Reductions in vaccine effectiveness over time have also been observed in Israel, Qatar and the US. These observations highlighted the need to follow any emerging patterns of waning immunity closely.
Wales' Technical Advisory Cell (TAC), who provide coordination of scientific and technical advice to support Welsh Government decision makers during emergencies, published a summary of emerging evidence on waning immunity on 10 November 2021. The evidence for infection-induced immunity is more limited. Recovery from many viral infectious diseases can be followed by a period of protection against reinfection as a result of the initial infection. However, the emerging evidence continues to point strongly to the value of vaccination, whether or not you've had COVID-19.
The booster vaccination programme
One aspect of the COVID-19 response to waning immunity is the introduction of a third dose, known as a 'booster' vaccine.
The roll-out of the booster campaign began in Wales in mid-September. This followed the Welsh Government accepting advice from the Joint Committee on Vaccination and Immunisation (JCVI) to offer a booster dose of the COVID-19 vaccine to people in priority groups one to nine, which included all over 50s, frontline health and social care workers, and people with underlying health conditions. This offer has now been extended to those aged 40-49 years old, at six months or more following their second dose.
The 806,297 people who have received booster or 3rd dose vaccinations as at 24 November 2021 represent 25.4% of the total population.
Percentage of people who have received a booster vaccine by priority group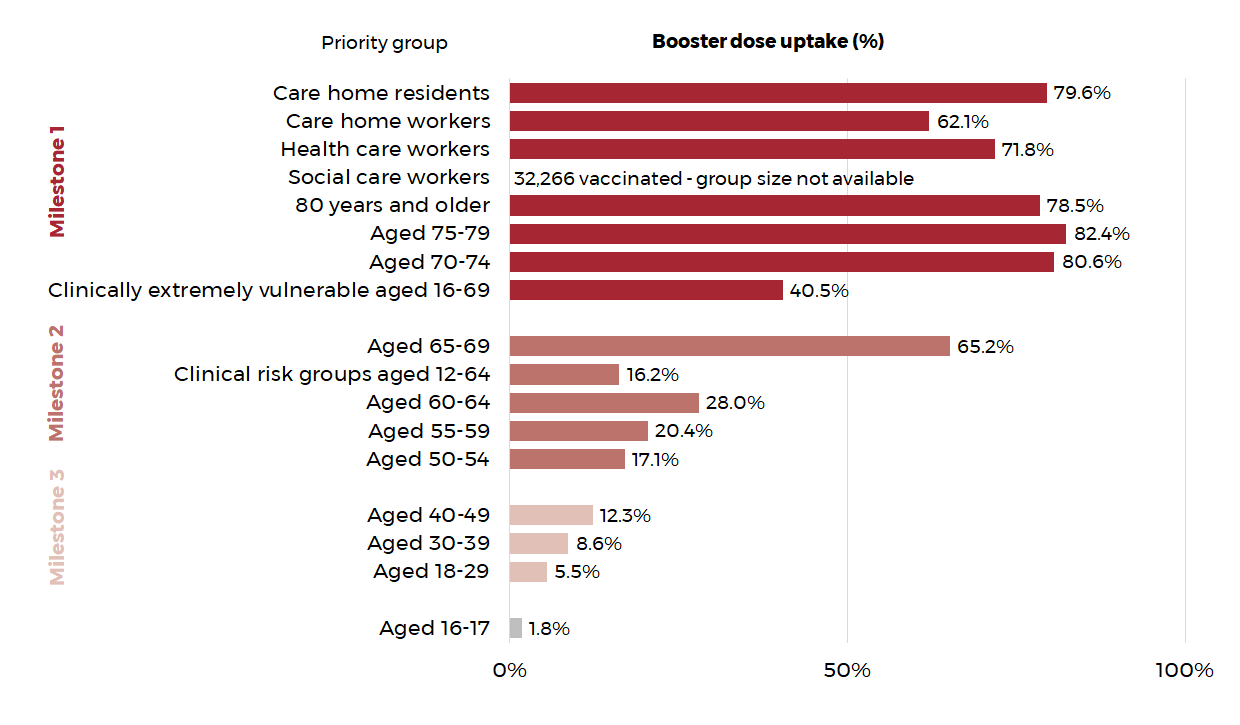 Senedd Members have raised concerns that the roll-out of the booster programme has been slow, and that some of those eligible for the booster vaccine are still waiting to be contacted.
Concerns of slow roll out and uptake of the booster have also been reported in Scotland, England and Northern Ireland.
It has been argued that the more complex nature of the current vaccine programme, with many different groups at different stages in the vaccine campaign, creates some challenges in maximising vaccine uptake.
The Welsh Government's Minister for Health and Social Services has said that widespread take-up of the booster is key if it's to have an impact, and has urged people to have their booster vaccination (and winter flu jab) to support the NHS this winter. The Scientific Advisory Group for Emergencies (SAGE) has indicated that the future scenarios it has modelled for this winter assume "rapid rollout and high uptake" of the booster.
How effective is the booster?
It's early days in the campaign. However, emerging evidence from Israel, also reported by TAC suggests that booster vaccinations are having a significant positive effect on rates of infection and serious illness.
Recent findings from the UK Health Security Agency suggest that the booster gives over 90% protection against symptomatic COVID-19 in adults over 50.
Booster vaccinations are likely to have a significant effect on rates of infection and serious illness this winter, so policy-makers will need to keep an eye on uptake. They will also need to follow the evidence about how long the booster protection lasts, and whether an annual COVID vaccine might be recommended in the ongoing fight against COVID-19.
---
Article by Božo Lugonja and Paul Worthington, Senedd Research, Welsh Parliament