In this second article on dentistry, we look at prevention and access to community dental programmes. The British Dental Association (BDA) warns that the oral health gap in Wales is set to widen unless inequalities are addressed.
This isn't just about inequalities in access to healthcare (explored in our first article). It's about preventing dental disease, through educating people about good oral hygiene and addressing the barriers that prevent many groups establishing good oral health behaviours.
Oral health programmes
Public Health Wales says prevention is the key to good oral health, and you can best take care of your teeth and mouth by:
Leading a healthy lifestyle - having a low-sugar diet, not smoking and having no/little alcohol;
Having good daily oral hygiene - brushing your teeth well twice a day with fluoride toothpaste; and
Making best use of health services - having regular check-ups based on risks and need at a dental practice.
Public health programmes such as Designed to Smile, and the All Wales Care Home programme (Gwen am Byth) were suspended during the pandemic and haven't fully resumed.  
Designed to smile
Designed to Smile is a preventative programme for children. It aims to help start good habits early, and involves the delivery of nursery and school-based toothbrushing and fluoride varnish programmes for children to help protect teeth against decay.
More than a third of children in Wales have dental decay by the time they arrive at primary school (Year 1). Those in more deprived communities suffer a higher burden of disease. Public Health Wales data indicates children in Cwm Taf Morgannwg University Health Board (UHB), for example, are nearly three and half times as likely to undergo extraction of teeth under general anaesthetic, as their counterparts in more affluent Hywel Dda UHB.
The BDA reports that before COVID-19, one third of children did not visit a NHS dentist over a two-year period. Post-pandemic these figures will have worsened. The BDA says the need for prevention is now even greater.
Figure 1: Number of courses of dental treatment given to children quarterly 2009-2021 by treatment band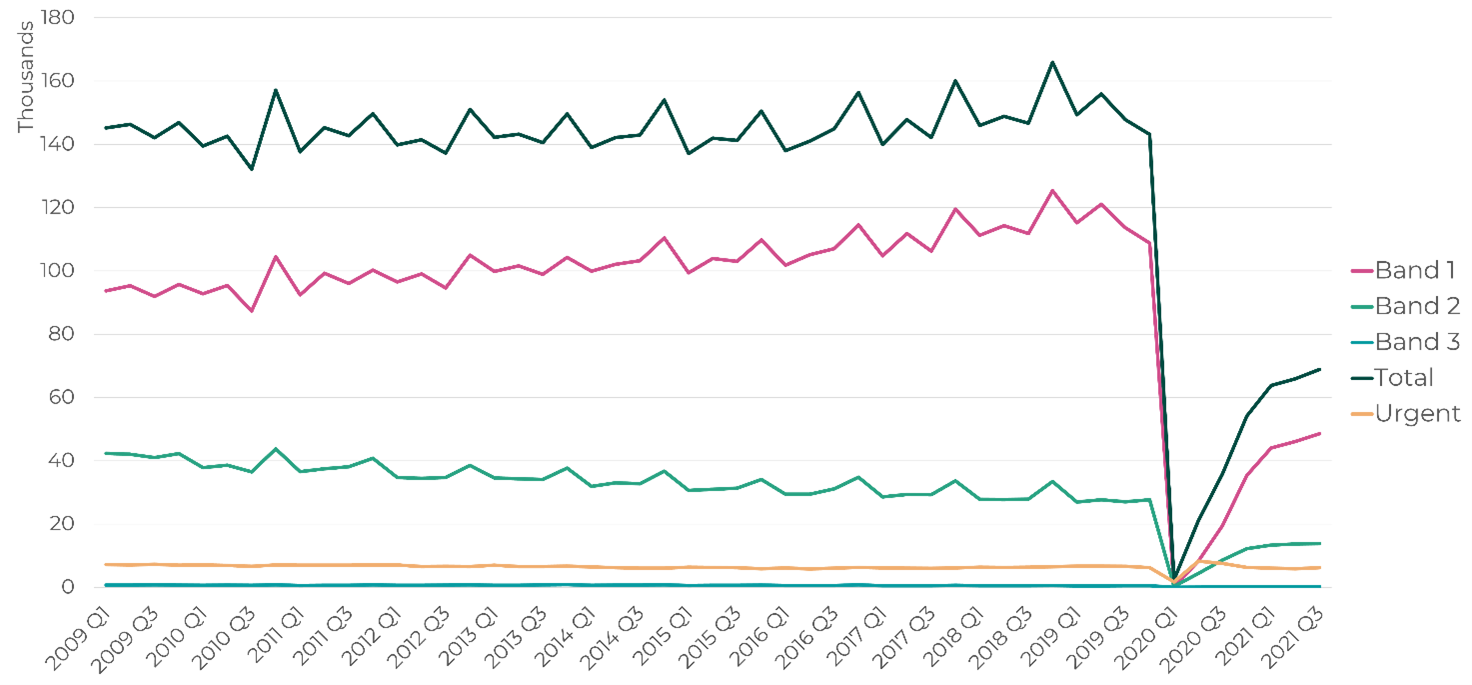 Source: StatsWales, Courses of treatment by treatment band, patient type, local health board and quarter.
Figure 2: Change in the number of courses of preventative treatments¹ given to children between 2019-20 and 2020-21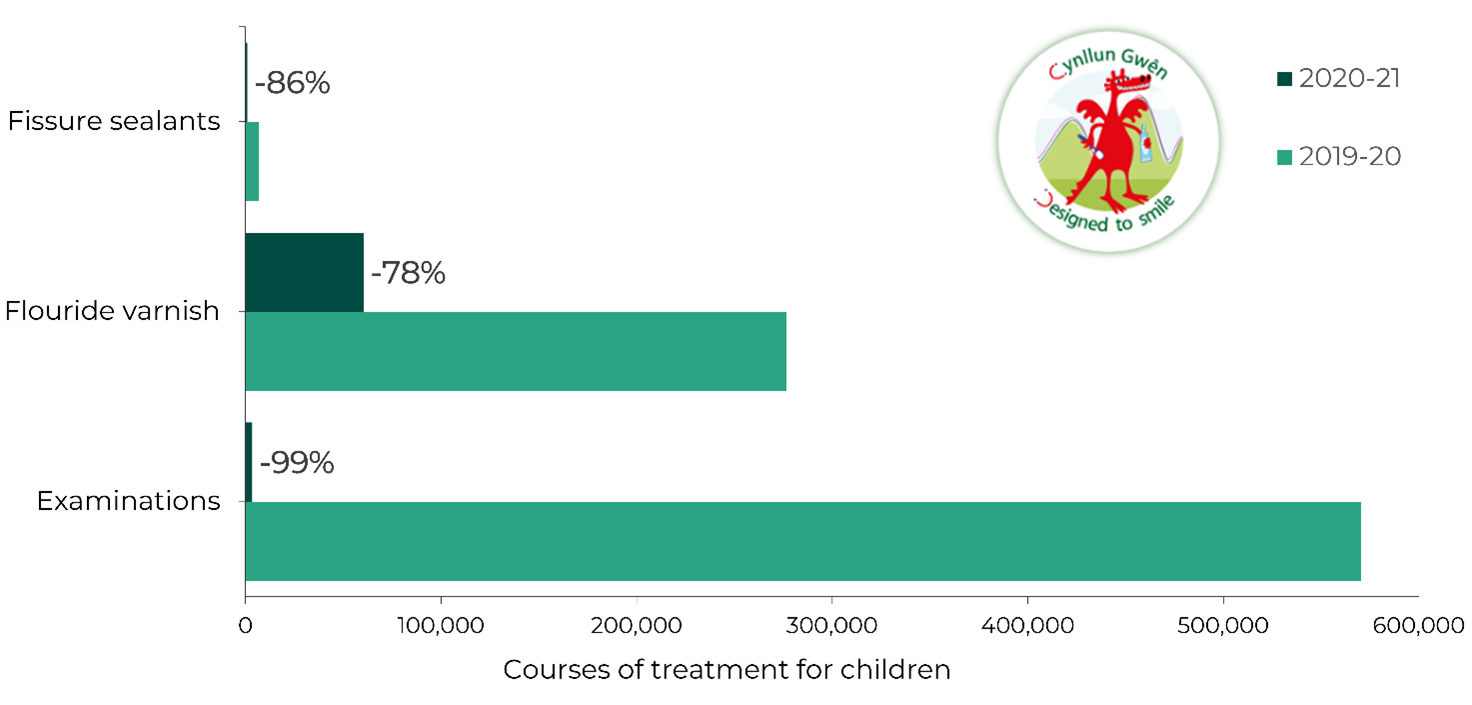 Source: NHS Dental Statistics in Wales, 2020-2021.
¹ Fissure sealant, fluoride varnish and examinations are preventative treatments targeted by the Designed to Smile Programme aimed at improving children's oral health.
Gwên am byth
Gwên am byth is a national oral health improvement programme delivered by the Community Dental Services (CDS) to improve oral health and hygiene for older people living in care homes. 
Many older people are now retaining natural teeth, but often with complex needs that can make even basic care such as brushing teeth a challenge. The CDS provide training for care home staff, and allow them to assess and provide safe mouth care for residents.  340 out of 650 care homes in Wales were targeted for this programme, and 278 were fully participating in 2019.
Figure 3: Level of participation in the Gwên am byth programme pre-pandemic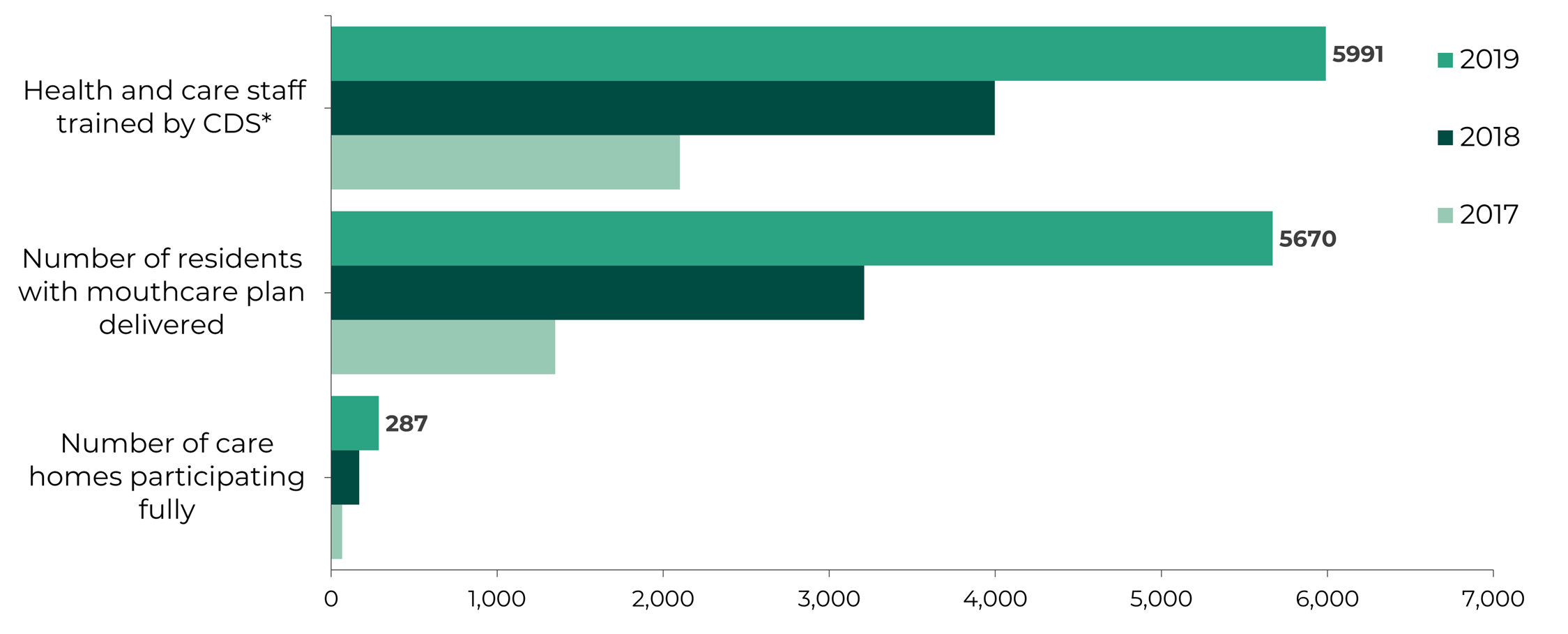 Source: Gwên am byth: a programme introduced to improve oral health of older people living in care homes in wales – from anecdote, through policy into action. *Total includes oral health champions – care home staff trained by the CDS to provide training to new staff members.
There is no recent data on the oral health of care home residents or status of the Gwên am byth post-pandemic. However, access to treatment in the CDS for vulnerable patients has been hard-hit by the pandemic. The BDA reports that the backlog of treatment for these patients is even greater than in mainstream dental practices (due to CDS dentists deployed within the Urgent Dental Care Centres).It says:
… inadequate dental care for at-risk groups is storing up immense problems for the future.
In addition, we know that unhealthy diets and an aging population will lead to greater strains on primary and community dental services.
Dentistry datasets
The NHS Business Services Authority (NHSBSA) is an arm's length body of the UK Department of Health and Social Care. It holds all the primary care dental services data and provides reports to Health Boards and dental practices, but these aren't publicly available. The reports produced by the NHSBSA are largely focussed on performance, quality and risk management. Public sector organisations and research teams can make data requests.
The Welsh Government release quarterly data on NHS dental services. This includes the number of patients receiving NHS dental treatment, the type of treatments provided and the numbers of NHS dentists.
Public Health Wales report annually on the number of general anaesthesia dental procedures carried out on children aged 0-17 in Wales. But the methodology to obtain data for this report has been questioned and needs improvement (highlighted in the report itself). Data wasn't collected during the pandemic and so newer reports aren't expected.
The Welsh Oral Health Information Unit (WOIU) has links to a series of reports including; Designed to Smile monitoring reports, Local Health Board oral health profiles and survey results.  But there is little up-to-date information, as surveys weren't possible during the pandemic. Some survey work is now re-starting.
Tackling dental inequalities
The BDA emphasises that "families across Wales have seen what life is like without dentistry" and that the impact of the pandemic "could be felt for years to come". It says:
The sad fact is that the real progress we've made on tackling unacceptable health inequalities now risks going into reverse.
Understanding the inequities in the provision and utilisation of NHS dental services by disadvantaged groups and across the life-course is needed if the Welsh Government's ambition to ensure NHS dentistry is available to everybody who wishes to take it up is achieved. Improvements to dental datasets are needed if we are to fully understand inequities in a more meaningful way.  
The Senedd's Health and Social Care Committee has launched a consultation on dentistry this week. Details of how to respond to the consultation are available on the website.
---
Article by Katie Devenish, Sarah Hatherley and Sam Jones Senedd Research, Welsh Parliament