On 31 January, the Assembly will hold a Member Debate on leasehold and discuss whether it should be reformed or abolished in Wales.
Many Assembly Members have had concerns raised with them by constituents living in leasehold property and the debate will provide an opportunity to raise those issues and hear the Welsh Government's plans. Shortly before Christmas 2017, the Minister for Housing and Regeneration confirmed that she would make a statement on leasehold in the New Year.
Like devolution itself, leasehold is a complex area of law. In fact, given that property law will be reserved to Westminster from 1 April 2018, it's not yet completely clear how far the Assembly could go in reforming leasehold law. Moreover, we probably need to know more about the scale of the problems associated with leasehold in Wales. There are some well-known examples of problems, such as the difficulties experienced by leaseholders on the Elba Estate in Gowerton and some leaseholders of social landlords have faced substantial and unexpected service charges - but we probably need further research to see the full picture.
A recent survey carried out in conjunction with the Leasehold Advisory Service (LEASE) found 57% of leaseholders somewhat or strongly agreed that they regretted buying a leasehold property, however only 19 of the 1,244 responses to the survey came from Wales. Given Wales and England share the leasehold system, and developers operate across the border areas, it seems likely that many of the issues being raised will apply across both countries.
The Welsh Government estimated in 2012 that there were around 200,000 leasehold homes in Wales. Many people will immediately associate leasehold with flats, but that is not always the case; houses can also be leasehold. The extent to which developers are selling new-build houses on a leasehold basis has received a lot of attention in the media, and the UK government has announced plans to end the practice for most new houses in England, although this does not go far enough for some. In particular, there are concerns about how reforms will help existing leaseholders.
The Research Service has carried out an analysis of Land Registry transaction data and identified that Wales also has hot-spots where there are significant sales of leasehold new-build houses. Many of the areas are in north Wales, in close proximity to the north west of England hot-spots. The constituencies with the highest proportion of new-build leasehold houses (as a proportion of all new-build houses) are:
[table id=9 /]
It is important to stress that these figures are based on relatively small numbers of sales. In Aberconwy, for example, only 48 new-build leasehold houses were sold in 2016. The map below shows the percentage of all house transactions that were leasehold in 2016.
Table 1: Number and percentage of leasehold and freehold property transactions by Assembly Constituency, 2016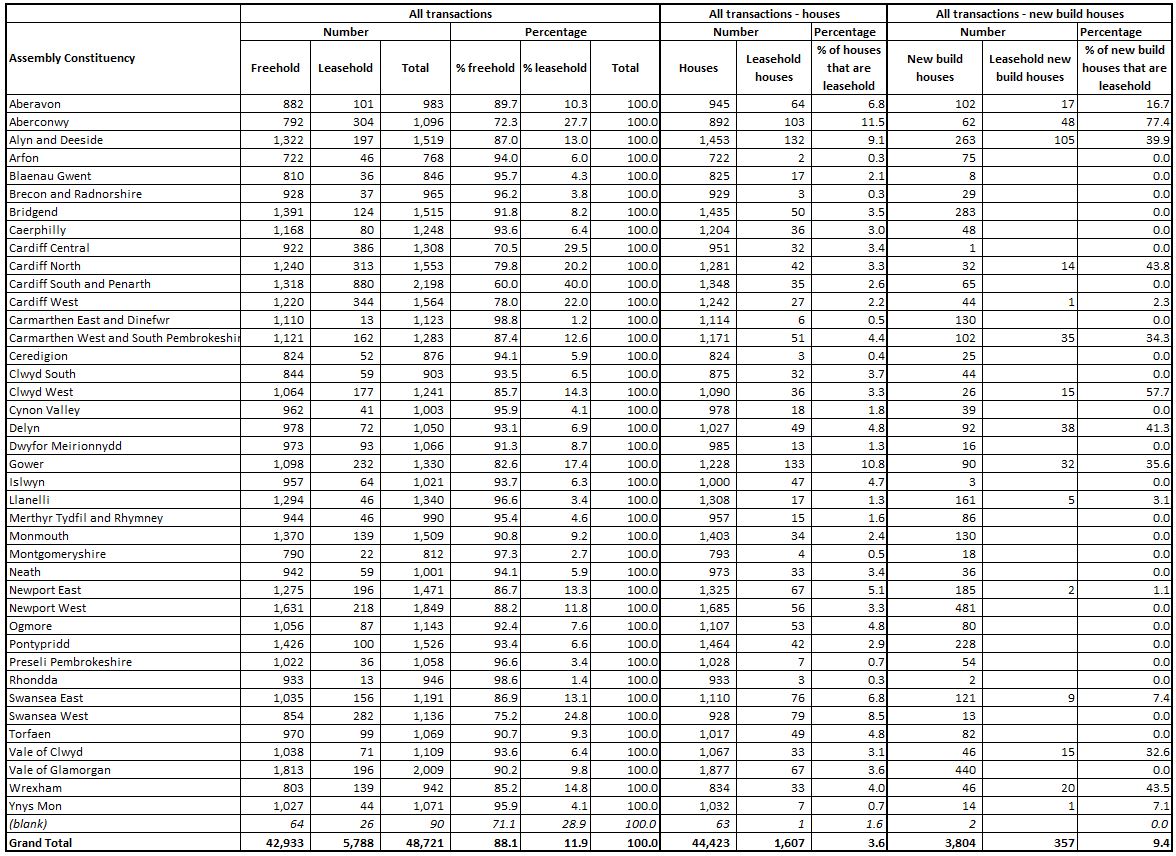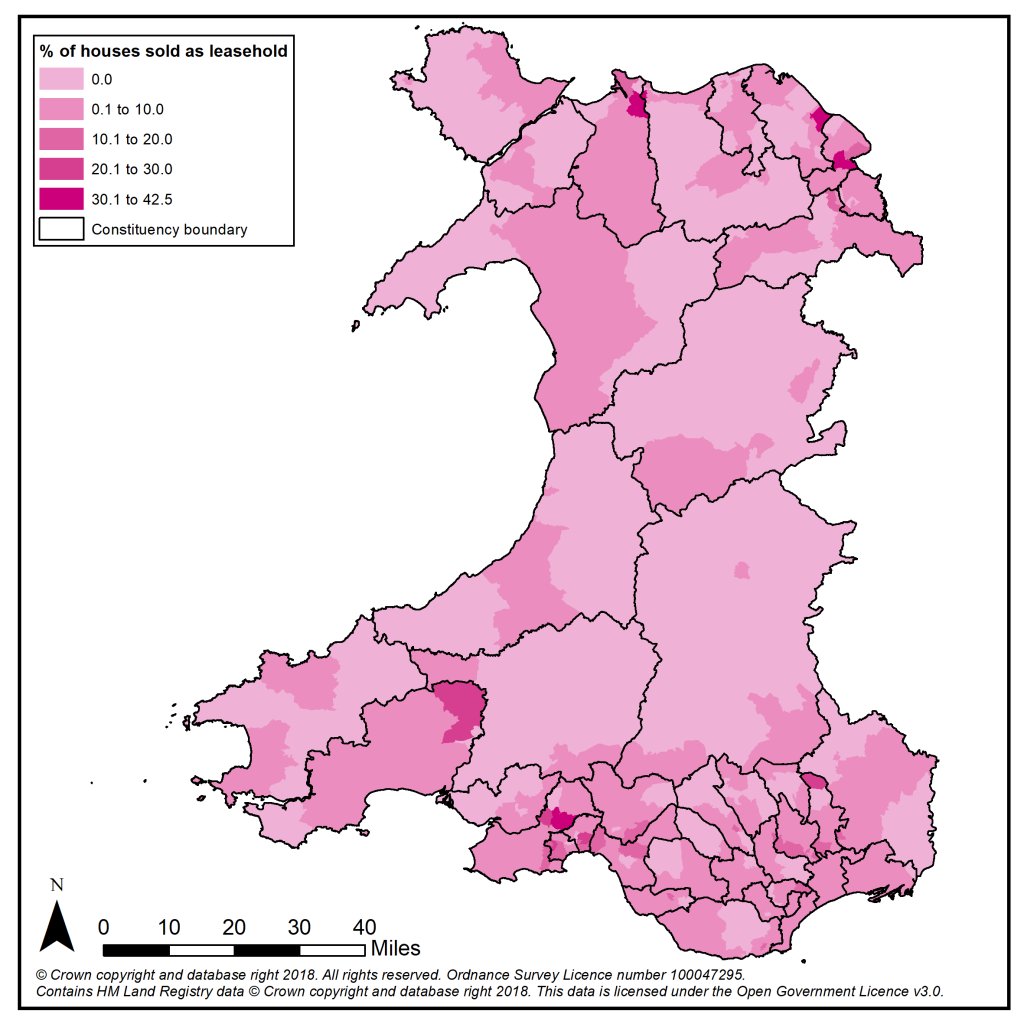 For many, it is easier to understand why flats are leasehold. The lease will make clear arrangements for maintenance of the communal areas, insurance and the building's structure. For leasehold houses, the benefits to the leaseholder may be less obvious. Issues of concern raised have included 'onerous' ground rent clauses which soon escalate from the affordable to the unaffordable and can make it difficult to sell the property. Other charges for consents to alter the property, and even permission to sell the property can add to on-going costs. In some cases, the freehold interest can be sold on, perhaps to investment companies. Given the complexity of the leasehold system, and indeed individual leases, many leaseholders will have relied entirely on their legal adviser to highlight any concerns before buying the property. It is entirely possible that some leaseholders did not realise what they were entering into.
Leasehold reform has been an ongoing process over the decades. An alternative tenure, commonhold, has been available to use in Wales and England for some time, but has not proved popular with developers.
In May 2017, a Welsh Government Decision Report was published which "agreed support for the proposed Law Commission project to look at possible reforms to residential leasehold law". The Law Commission's 13th programme of law reform was announced in December 2017 and actually contained two projects on leasehold reform, with one looking specifically at unfair terms in leases.
Given the scale of the campaign for reform in England, including the work of the All Party Parliamentary Group on Leasehold Reform (supported by the Leasehold Knowledge Partnership), the work of the Law Commission, and the steps already being taken by the UK government, it seems unlikely that calls for reform in Wales will go away.
---
Article by Sam Jones, Helen Jones and Jonathan Baxter
Table 1 - Source: HM Land Registry Price Paid Data for 2016 (accessed on 24 November 2017); Research Service analysis.
Contains HM Land Registry data © Crown copyright and database right 2017. This data is licensed under the Open Government Licence v3.0.
Notes: Houses are defined as Flat, Terrace, Semi, Detached (not Other). Data includes status 'A' only. A small number of transactions could not be matched to Assembly Constituencies.