On 10 July the Welsh Government published its Green Paper, Brexit and Our Land. The proposals are for a new Land Management Programme for Wales, including farming and forestry, which is expected to replace the Common Agricultural Policy (CAP) in Wales post-Brexit. This includes a new Public Goods scheme which would provide direct support for public goods delivery, in particular for the environment. An 'outcomes based' approach has been proposed.
The Research Service has established a Brexit Academic Framework agreement. Under the Framework, experts provide research and advice services to the National Assembly for Wales Commission in relation to Brexit, to supplement the work of the Research Service.
Professor Mike Christie from the Aberystwyth University has provided the following case study analysis. It considers existing examples of outcomes-based approaches to land management and payments and the associated risks and opportunities.
New Publication: Outcomes-based land management schemes: a case study analysis (PDF, 1985KB)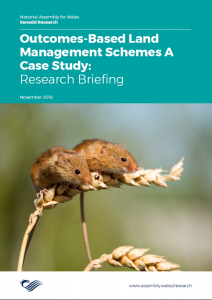 ---
Article by Professor Mike Christie, Aberystwyth University and Katy Orford, National Assembly for Wales Research Service