Brexit will bring significant changes in the environmental policy area. Senedd Research has prepared this monitoring report for the Assembly's Climate Change, Environment and Rural Affairs Committee. It provides an update on recent Brexit developments that are of importance to environmental policy in Wales.
New Publication: Brexit Monitoring Report – Environment (PDF, 469KB)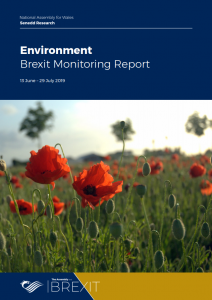 ---
Article by Katy Orford, Elfyn Henderson, Chloe Corbyn, Emily Williams, Holly Tipper and Siân Davies, Senedd Research, National Assembly for Wales
Senedd Research acknowledges the parliamentary fellowship provided to Holly Tipper by the Natural Environment Research Council which enabled this monitoring report to be completed.