This year households face possibly their biggest fall in disposable income since the mid-1970s, according to the Resolution Foundation. Rising energy prices, tax increases and falling real wages mean 2022 is likely to be the 'year of the squeeze'. Inflation is forecast by the Bank of England to peak at over 7% in April, with the Resolution Foundation saying that rising energy prices resulting from the conflict in Ukraine could push it higher.
Our article outlines the causes of the current pressures, who is most affected, and what support is available from the Welsh and UK governments.
What is causing the cost of living crunch?
The latest data from the Office for National Statistics (ONS) shows inflation was at 5.5% in January. The main factors behind this are energy prices and fuel costs, and the Institute for Fiscal Studies has predicted inflation will affect the poorest households most over the coming months.
There have been dramatic increases in energy prices over recent months; both in the UK and globally. As the global economy restarts after pandemic-related lockdowns, limited stocks of natural gas and supply constraints have driven prices higher, with the UK vulnerable to this as it imports more natural gas than it exports. The conflict in Ukraine is also likely to impact energy prices. Last month, Ofgem announced the energy price cap would increase by 54% from 1 April for default and standard tariffs (not fixed-term deals).
Real wages are falling due to rising inflation, and The Bank of England expects them to continue falling throughout 2022 before the picture starts to improve next year. The Resolution Foundation highlights this would be the third squeeze on real wages in a decade.
Who will be hit hardest by cost of living pressures?
Estimates from the National Institute of Economic and Social Research show that the poorest households in Wales are likely to be hit hardest. These households spend over a quarter of their income on energy and food, more than twice as much as the richest households. Households receiving benefits will also receive an uplift that is less than the amount they would need to cover rising prices.
Figure 1: Percentage of household income spent on energy and food, by households with top and bottom 10% of income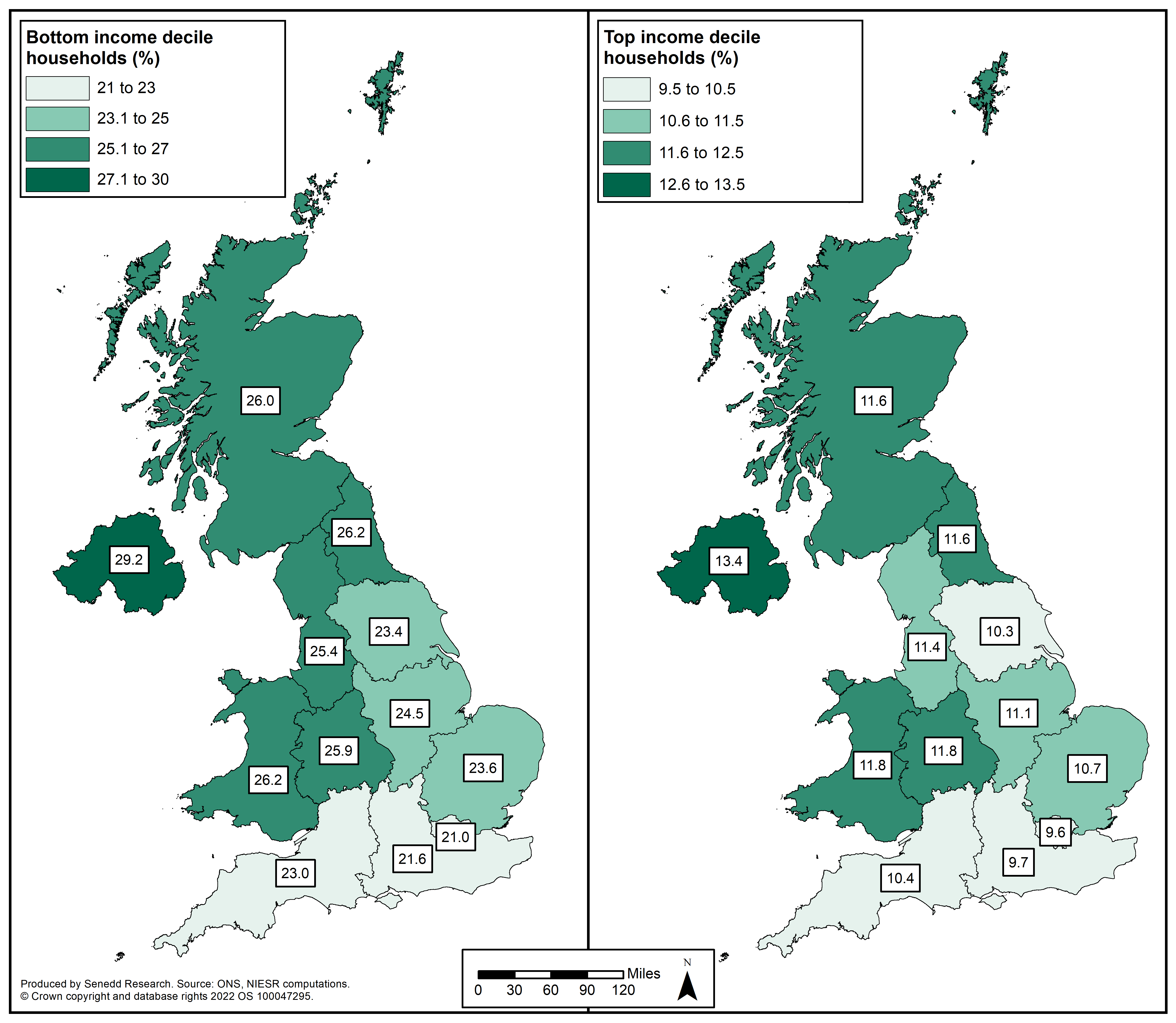 Source: National Institute of Economic and Social Research, Powering Down, Not Levelling Up
The Welsh Government has said disabled people and children from some ethnic minority communities are likely to be disproportionately impacted by cost of living pressures.
Households are classed as "living in fuel poverty" by the Welsh Government if they are required to spend more than 10% of their income on a "satisfactory heating regime". An estimated 155,000 Welsh households were living in fuel poverty in 2018, with another 144,504 at risk. ONS data from March 2021 shows that annual energy costs are highest in rural parts of Wales.
Figure 2: Median annual energy bill for the year to March 2021, by Welsh local authority (£)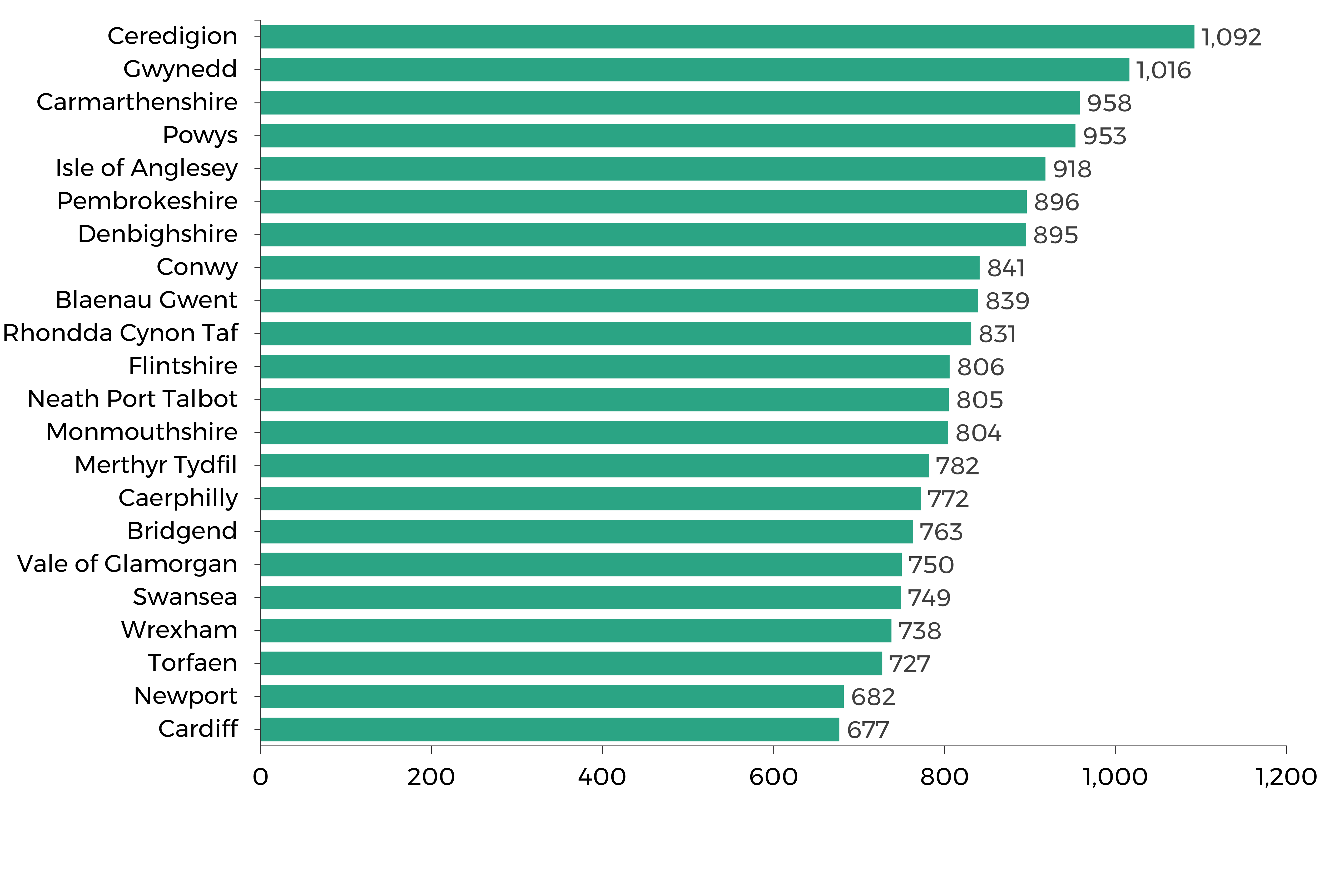 Source: Office for National Statistics, Energy efficiency of Housing, England and Wales, local authority districts
Analysis from the Bevan Foundation shows many households are already cutting back on heating, eating and clothing, and that nearly 40% of Welsh households do not have enough money for anything beyond the essentials.
Figure 3: Percentage of households in Wales that cut back on essentials, May-November 2021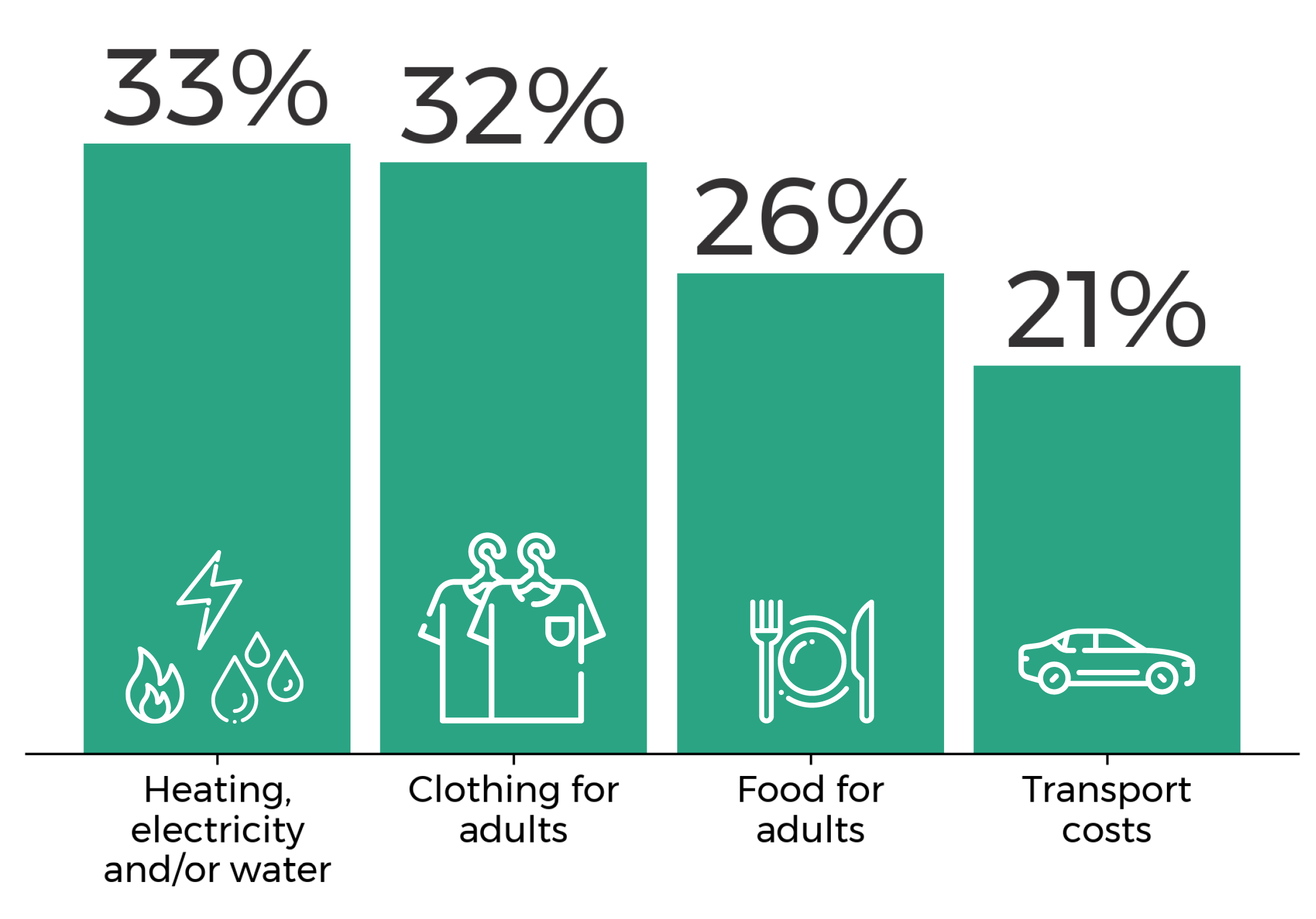 Source: Bevan Foundation, A snapshot of poverty in winter 2021
How are the Welsh and UK Governments supporting households with increased energy costs?
Following the energy price cap announcement, the UK Government outlined an Energy Bills Rebate of £200 to mitigate price increases. Energy suppliers will apply this to domestic electricity customers' bills from October, with the rebate automatically recovered in five £40 instalments from 2023. National Energy Action and Citizens Advice Cymru expressed concern that this support would not be sufficient for low-income households.
The Welsh Government has also outlined support for households, including:
Increasing the Winter Fuel Support Scheme payment to £200, widening eligibility criteria, and introducing a further £200 payment to be made later this year;
Providing a council tax rebate of £150 for households living in homes in council tax bands A-D, and all households receiving support through the Council Tax Reduction Scheme; and
Providing further support through allocations to the Final Budget 2022-23.
It has published analysis of these measures suggesting that the poorest 20% of households will receive almost three times as much support as the richest 20%. The analysis also shows that the Winter Fuel Support Scheme and Discretionary Assistance Fund payments make the package more progressive than the council tax rebate.
The Bevan Foundation welcomed many of the announcements, but said the council tax rebate could have been better targeted at those in greatest need.
What impact are increased food prices having, and how is the Welsh Government trying to mitigate these?
The rising cost of living will have the greatest impact on the food security of low income households. The Trussell Trust has seen "signs of an acceleration of need" for food banks towards the end of last year.
The Welsh Government has allocated funding to extend Free School Meals provision over school holidays, and will start implementing its commitment for free school meals for all primary school children in September, providing this to younger pupils first. It has also allocated almost £3 million to support access to food and tackle food poverty.
There's also work ongoing to look at the food system as a whole, including the affordability of healthy and good quality food. Peter Fox MS is currently developing a food bill for introduction to the Senedd which includes tackling food poverty as one of its policy objectives.
What about housing costs?
Many of us are also facing rising housing costs. Homeowners with variable or tracker mortgages have felt the impact of the Bank of England raising interest rates. Prospective homebuyers have faced record house prices, up 13% in the year to December 2021, and more expensive mortgage deals.
While Office for National Statistics data shows a relatively modest annual increase in private rents, property portal Zoopla has said rents in Wales rose by 9.8% in the year to December 2021. Tenants of social landlords also face rising rents with increases of up to 3.1%.
With many people's finances impacted by the pandemic and rising inflation, the Bevan Foundation has called for schemes targeted at supporting people with housing costs to be extended.
What's next?
Cost of living pressures are likely to hit households the hardest for at least a generation, and potentially almost half a century. While both Welsh and UK governments have announced support measures, additional help may be needed, particularly for the poorest households.
The cost of living crunch is continuing to inform the work of the Senedd. Its Committees have considered cost of living issues while scrutinising the Welsh Government's budget, and during inquiry work. The Committee for the Scrutiny of the First Minister will be scrutinising the First Minister on the current pressures at the end of the month, and other Committees are planning future work in this area in response to the challenges many households will face.
---
Article by Gareth Thomas, Jonathan Baxter, Chloe Corbyn and Elfyn Henderson, Senedd Research, Welsh Parliament