Greenhouse gas emissions of the six major gases decreased by 8% in Wales between 2013 and 2014, however Wales continues to trail the rest of the UK in emission reductions over the longer term.
The National Atmospheric Emissions Inventory (NAEI) has recently published (PDF, 25.9MB) the latest estimates of greenhouse gas emission statistics for Wales and the devolved administrations for the period 1990 to 2014. These show that emissions decreased by 18% between the baseline year (1990 or 1995 depending on the greenhouse gas) and 2014.
The reductions are primarily due to increased efficiency in energy production and business sector heating, the use of natural gas in place of coal, abatement in some chemical industries and a shift in manufacturing output.
How do reductions in Wales compare to the rest of the UK?
Welsh emissions make up 9% of total UK emissions, whereas England, Scotland and Northern Ireland accounted for 75.7%, 8.6% and 4% of total emissions respectively. This is due to Wales having a relatively high share of heavy industry and electricity generation compared to our population.
Compared to the 1990 baseline, Welsh emission reductions fell behind those of the other devolved administrations of the UK. While Wales has seen a decrease of 18% in greenhouse gas emissions since the baseline, Scotland and England have seen decreases of 41% and 38% respectively.  However, Northern Ireland has seen a slightly lower decrease than Wales, with a 17% reduction in emissions over this period.
Between 2013 and 2014, Welsh emissions reductions were greater than England (7.9%) and Northern Ireland (3%) but trailed Scotland (8.9%).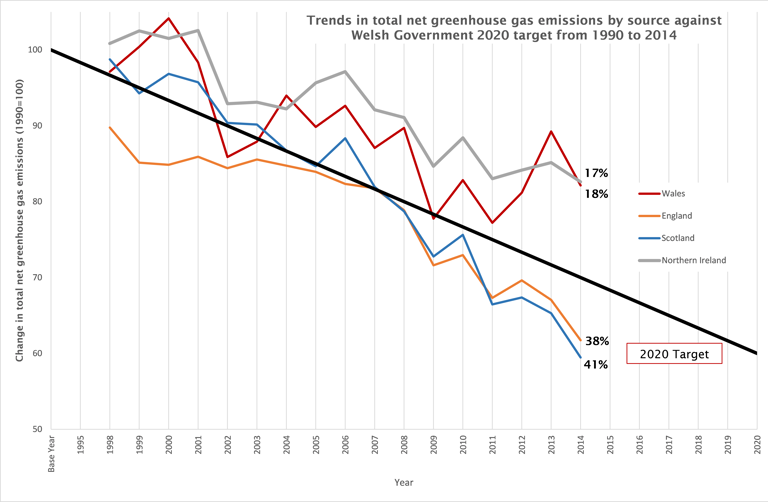 Source: National Atmospheric Emissions Inventory, Greenhouse Gas Inventories for England, Scotland, Wales and Northern Ireland: 1990-2014
How does this compare to emission targets in Wales?
The Environment (Wales) Act 2016 (PDF, 293KB) marks a change in the approach to tackling emissions and places a duty on the Welsh Government to ensure emissions are reduced. The duties contained in the Act include:

The first two carbon budget periods will run from 2016 to 2020 and 2021 to 2025. For both of these periods, the Welsh Government must set maximum net emission targets. In order for Wales to meet its 2050 target, emissions need to be reduced by a further 62% over the next 35 years.
These emission targets are in addition to the duties in the Well-being of Future Generations (Wales) Act 2015. This Act reinforces the commitment of the Welsh Government to sustainable development and well-being in Wales. There is also a target to reduce emissions within devolved competence (PDF, 1.27MB) by at least 3% per year for each year from 2011 to 2020.
Within the Act are seven wellbeing goals (PDF, 2.11MB), three of which are linked with emission reduction in order to curb climate change and improve the environmental wellbeing of Wales. These goals are; a more prosperous Wales, a resilient Wales and a globally responsible Wales.
At UK level, the UK Government has recently agreed the Committee on Climate Change's proposal for the carbon budget for 2028-32, with target emissions reductions of 57% by 2032 compared to the base year.
What are the individual sector contributions?
Emissions are broken down into nine key sectors; agriculture, business, energy supply, industry, land use change, public, residential, transport and waste. The energy supply and business sectors are the largest sources of emissions between 1990 and 2014, accounting for 38% and 20% of total emissions in 2014. This is driven by electricity production and iron and steel combustion. Other key sectors include transport and agriculture which both accounted for 13% of emissions in 2014.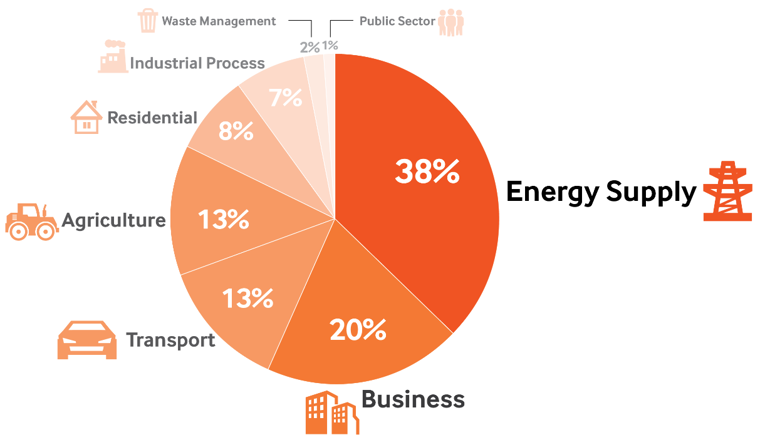 Source: National Atmospheric Emissions Inventory, Greenhouse Gas Inventories for England, Scotland, Wales and Northern Ireland: 1990-2014
There have been significant emission reductions in a number of sectors since 1990, specifically business (32%), public (57%), residential (28%) and waste management (72%). The reductions in the business sector are due to a decline in emissions from the iron and steel industries, whilst residential and public sector savings are due to increased energy efficiency and the switch to less carbon intensive fuels. The large reductions in waste management are due to the introduction of methane capture and oxidation systems in landfill.
Specific sector trends and their drivers are explored in more detail in the inventories report (PDF, 25.9MB).
What about emissions from consumption (end-user emissions)?
The end-user approach calculates emissions according to where the product of those emissions (i.e. electricity) is consumed. This therefore accounts for consumption rather than the geographical location where energy production takes place.
On an end user basis, 2014 emissions were lower than source emissions as Wales is the only one of the UK nations that is a net exporter of energy.
End-user emissions in Wales declined by 5.1% between 2013 and 2014 and 29.9% since 1990. For both time periods, this was less than Scotland (9.4% and 45.1%) and England (7.9% and 35.6%), but more than Northern Ireland (4.6% and 18.7%).
Article by Edward Armstrong and David Millett, National Assembly for Wales Research Service