The Welsh Government's final budget motion will be debated on 16 January.
Click here to explore the budget.
The UK Autumn budget was announced around a month after publication of the Welsh Government's Draft Budget, resulting in changes to the funding available for Wales. This comprises £210m resource; £328m of conventional capital and £557m of financial transactions capital between 2018-19 and 2020-21.
Compared to the Draft Budget, an additional £103m revenue was announced in the Welsh Government's Final Budget for the 2018-19 financial year (capital was unchanged except for an £850,000 revenue to capital switch in Network Asset Management & Support). The main changes are shown below:
£50m "to support transformation in the health service". Including, additional funding for the Integrated Care Fund (ICF), targeted funding to primary care clusters and support for regional planning.
£20m to support local authorities. Including £7m to increase to the capital limit in charging for residential care and £1.3m for discretionary business rate relief. The Budget tables show £5.2m additional in the "non-domestic rates relief" BEL. Budget tables also show NDR (business rates) AME estimate is down £2m on Draft Budget figures.
£5m for the Higher Education Funding Council for Wales (HEFCW) and £2.5m for programmes and interventions aimed at improving skills.
£2.5m for air quality improvements (to local authorities)
£5m for Brexit preparedness to help businesses and the public sector in Wales adjust and prepare for Brexit.
£2m extra funding to establish Welsh Revenue Authority.
Welsh tax changes following UK Budget in response to UK tax policy changes:
NNDR multiplier planned increase reduced from increasing by RPI to CPI.
Stamp Duty lower threshold increased from £150k to £180k, plus changes to rates.
The National Assembly's Finance Committee and other Assembly Committees have published scrutiny reports on the Draft Budget.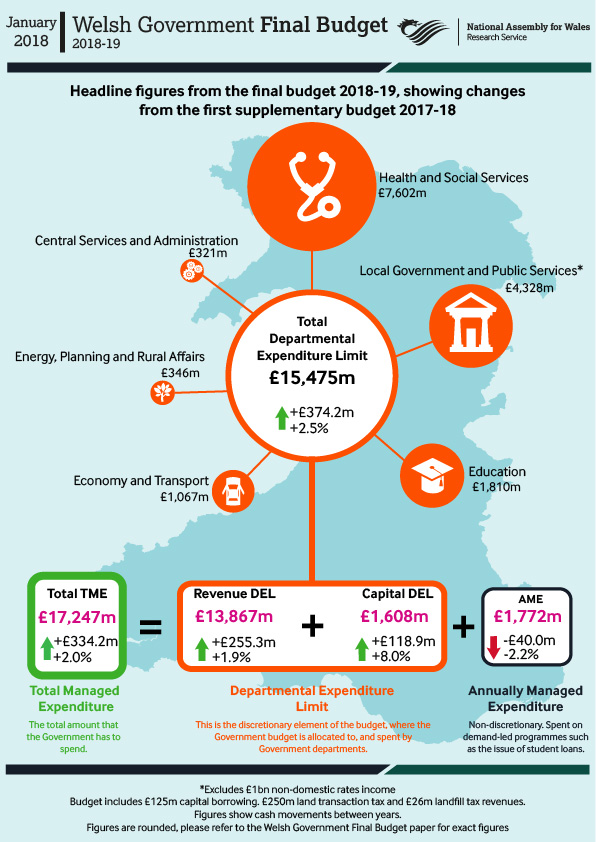 ---
Article by Martin Jennings and David Millett, National Assembly for Wales Research Service