The Senedd's Economy, Infrastructure and Skills Committee has highlighted that, as a result of the pandemic, Wales faces its "biggest economic challenge in living memory". The Senedd will debate its report on long-term recovery from the pandemic on 10 March.
The scale of the economic challenge
Key economic indicators show the scale of the impact of the pandemic on the Welsh economy. Welsh GDP decreased by 2.4% in the first quarter of 2020, and by 15.1% in the second quarter. The claimant count in Wales, which shows the number of people claiming Jobseeker's Allowance plus those who claim Universal Credit due to unemployment, was 110,025 in January 2021, almost double the level it was at the start of the pandemic.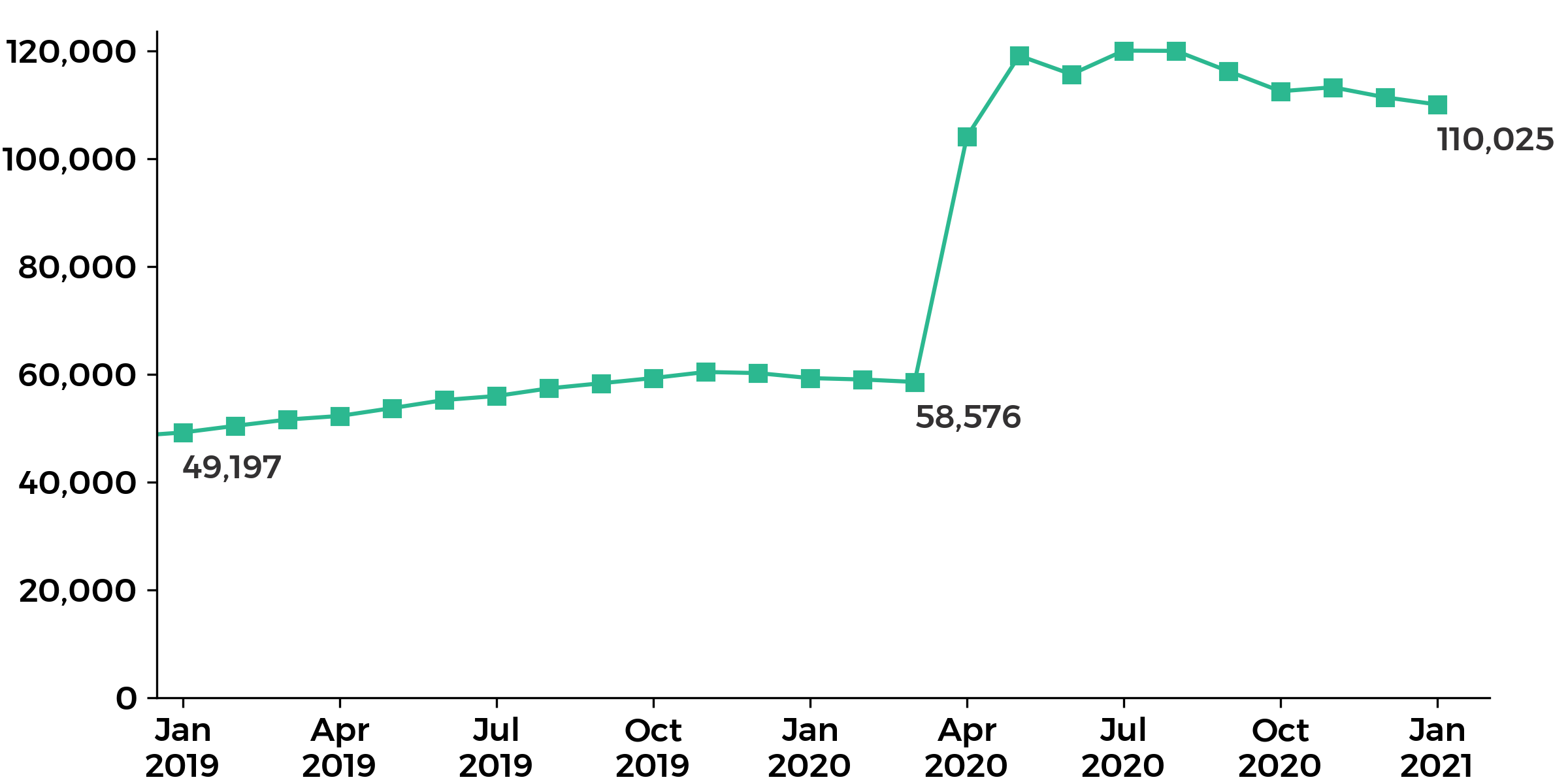 Source, NOMIS,ONS Claimant Count – seasonally adjusted
The Economy, Infrastructure and Skill Committee has been conducting an inquiry into this issue. It's heard evidence from a wide range of organisations on the challenges the Welsh economy, businesses and workers are facing, including:
As well as challenges that have resulted from the pandemic, Professor Dylan Jones-Evans set out underlying challenges that the Welsh economy faces, including low productivity, relatively low levels of innovation funding, and raising digital skills.
The Welsh Government's plans to support economic recovery
The Welsh Government has provided over £1.9 billion for business support since the start of the pandemic. This includes £100 million in business development grants to support businesses to transition to the future, to develop, and to secure employment.
The Welsh Government has also made wider allocations to support reconstruction. It allocated £320 million for capital investment, tackling inequalities and support for young people in October 2020, to help deliver the priorities in Covid Reconstruction – Challenges and Priorities. The Welsh Government's Final Budget 2021-22 sets out capital allocations of £224.5 million to support reconstruction and job creation.
The Welsh Government published its Economic resilience and reconstruction mission in February 2021 setting out its plans to deliver a prosperous, green and equal economy alongside £270 million of funding until 2030 to support the Development Bank of Wales to provide long-term, accessible business finance. This sets out five 'beacons' which will be the focus of Welsh Government activity to deliver economic recovery over the medium and longer-term.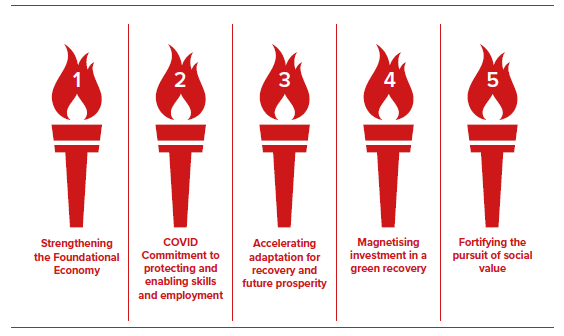 On the foundational economy, the Welsh Government proposes to scale up good practice identified via the Foundational Economy Challenge Fund; improve procurement practices; take action to repurpose and reshape town centres; and invest in digital infrastructure and ensure that the people of Wales are digitally confident.
To protect and enable skills and employment, the Welsh Government has set out its intention to deliver a "new Jobs Growth Wales"; to develop a new employability programme for over 18s; to support disadvantaged groups who have been particularly impacted by the pandemic; and upskill and expand the workforce in green growth sectors.
In relation to accelerating adaptation for recovery and prosperity, the Welsh Government plans to develop a recovery plan with the tourism and hospitality sectors; to use future rounds of the Economic Resilience Fund to support businesses; provide support for innovation and exports; support social enterprises and employee-owned businesses; and taking measures to support the green economy.
The Welsh Government intends to use major green recovery projects as 'magnets' to attract wider investment. It proposes to achieve this by developing centres of research and excellence; securing inward investment in sectors where Wales has specialisms; workforce development; and taking opportunities in green technology and energy generation.
To secure greater social value, the Welsh Government aims to strengthen its Economic Contract with businesses in receipt of public funding to deliver its requirements; to deliver a fair work nation through improving working conditions; and delivering social value through infrastructure projects.
Delivering a 'brighter tomorrow' for Wales
From the evidence it has taken, the Committee has suggested a number of solutions and actions that could support economic recovery and deliver a "brighter tomorrow", making recommendations to the Welsh Government across a wide range of areas:
Prioritising support for hard-hit sectors, including the need for the Welsh Government to outline its plans for 2021-22; working to develop a destination management strategy for the tourism and hospitality sectors; and setting out future proposals to support those in the arts and creative industries.
Supporting business through the recovery, including encouraging entrepreneurship and business start-ups; ensuring Business Wales and the Development Bank of Wales are sufficiently resourced to continue supporting businesses; and examining how academia and business can work together to deliver growth and increased productivity.
Delivering a skills and innovation-led recovery, where skills is at the heart of the next Welsh Government's programme for government; developing a joined-up approach to skills provision; and providing additional funding to fully implement the remaining recommendations of the Reid and Diamond Reviews.
Supporting a green recovery, including prioritising transformational investment in a green recovery; should accelerate shovel-ready green infrastructure investment to boost job creation; and to use skills funding to support green jobs and address gaps in skills provision.
Promoting fair work, with the Welsh Government supporting payment of the Real Living Wage through its recovery funding; working to strengthen and expand the reach of its Economic Contract, and developing formal monitoring arrangements; and setting out progress on implementing the Fair Work Commission's recommendations.
Delivering a recovery for all, by mainstreaming equality into the Welsh Government's recovery investments; establishing a Black, Asian and Minority Ethnic advisory group to work with the government on long-term economic, skills and transport recovery; requiring firms to make accessibility commitments for disabled workers to receive recovery funding; and allocating recovery funding to support sectors which mainly employ women as well as male-dominated ones.
Preventing a spike in youth unemployment and a 'scarred generation', including the Welsh Government urgently assessing whether to introduce a Youth Opportunity Guarantee for 16-24 year olds; and develop robust plans to give high-quality training and work experience to young people.
Supporting transport recovery, including developing a recovery plan for bus and rail; and considering how to give long-term funding certainty on local authority transport investment.
You can watch the Plenary debate on the Committee's report via Senedd TV on 10 March.
---
Article by Gareth Thomas, Senedd Research, Welsh Parliament