Digital infrastructure update: 4G gap between Wales and the UK average set to narrow
Over the past seven years the gap between superfast broadband availability in Wales and the UK average has reduced dramatically, following investment led by the Welsh Government through its Superfast Cymru programme.
The picture is different for mobile coverage, where commercial rollout has left a stubborn gap between coverage in Wales and the UK average. The development of a "Shared Rural Network" – following agreement between the UK Government and mobile network operators – could see this gap reduced significantly by 2026.
Superfast broadband gap narrows but 4G gap persists
Telecommunications remains reserved to Westminster. This means that the power to change the rules that govern broadband and mobile network deployment rests with communications regulator Ofcom and the UK Government and Parliament.
The Welsh Government's work in this area is therefore limited to grant funding – including grants for individuals and telecommunications providers – and use of other devolved powers – such as the planning system and business rates relief – to stimulate investment in digital networks.
In September 2021 Ofcom published its Connected Nations Summer Update, which includes key statistics for broadband and mobile coverage in Wales and across the UK.
Looking back to 2014 we can see how superfast broadband and 4G mobile coverage has improved across the UK and Wales:
Superfast broadband and 4G mobile coverage in Wales compared to the UK average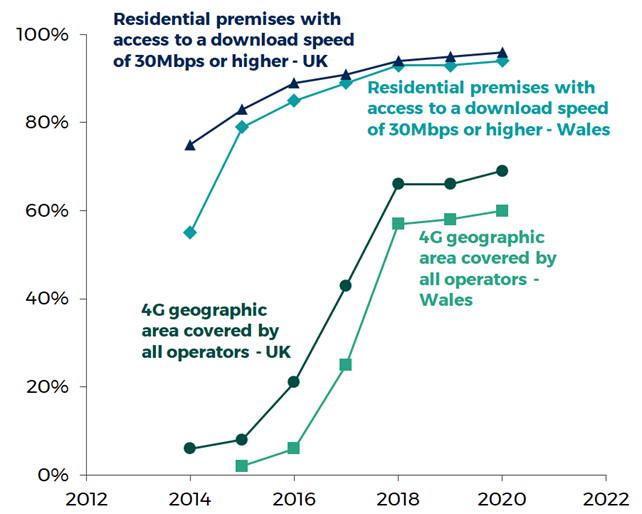 Source: Ofcom Connected Nations and Infrastructure reports
Note: figures for 4G coverage prior to 2017 should be used with caution due to variations in the methodology used to collect this data.
Superfast broadband coverage in Wales has almost converged with the UK average (94% compared to 96%), whereas a gap in 4G coverage between Wales and the UK persists (60% compared to 69%). The UK average figure for 4G geographic access conceals large differences between the UK nations: with England having 84% coverage and Scotland lagging behind on 44%.
Superfast Cymru and its successor
Superfast Cymru was the Welsh Government's superfast broadband programme, which aimed to ensure that about 96% of premises in Wales had access to superfast broadband (i.e. over 24 megabits per second, or "Mbps").
Over £220 million of public funding, from the UK Government, EU and the Welsh Government's own resources, was given to BT to provide superfast broadband connections in areas that were not due to be commercially connected. The contract with BT was signed in 2012, and the first phase of the Superfast Cymru project finished in February 2018.
BT Openreach is currently rolling out a successor scheme to Superfast Cymru, having won all three lots advertised by the Welsh Government. 39,000 premises are due be connected by June 2022.
Get myself connected
Alongside the grants the Welsh Government pays to network providers to go further than their commercial plans, there are various grants that people can apply for to improve their broadband.
The Welsh Government's Access Broadband Cymru scheme provides funding towards the installation costs of new connections for homes and businesses.
The Welsh Government has also made £10 million available to support local authorities and social enterprises to deliver broadband projects locally through its Local Broadband Fund.
The UK Government is running a Gigabit broadband voucher scheme which provides premises in rural areas with funding towards the cost of installing gigabit-capable broadband when part of a group scheme. Extra funding from the Welsh Government is available in some circumstances.
Since March 2020, if you can't get a download speed of 10 Mbps and an upload speed of 1 Mbps, you can request an upgraded connection from BT. Only costs above £3,400 are paid for by the applicant. In the first six months of this scheme's operation, seven premises were connected in Wales. Last year Ofcom was "concerned that BT may not be complying with the regulatory conditions correctly where it assesses excess costs for a given connection".
Mind the gap?
In 2020 Ofcom estimated that 97% of premises could get "decent" fixed broadband (10 Mbps or more, sufficient for a high-definition video call). Once wireless connections are factored in, the proportion of premises without access drops to 1.2%. Increasingly, these premises left behind by commercial and public rollout are the most difficult, and therefore expensive, to connect.
In 2019, 98% of premises in Wales had access to Digital Terrestrial Television, and about 80% of properties were on the gas grid. Governments haven't pushed for 100% coverage of these services: will they for fast broadband? Or is there a point at which – as they have for digital television and gas – governments decide that the benefits of further rollout are not worth the cost to the public purse?
The National Infrastructure Commission – a body that advises the Welsh Government – thinks that too much attention has been paid to promoting fibre to the home, and not enough on improving mobile broadband provision. It has also called for a "barrier busting taskforce" to be established, led by a senior civil servant, to improve the rollout of digital infrastructure.
Upwardly mobile
Improvements in 4G coverage have largely plateaued since 2018 (see above graph), leaving a persistent gap between Wales and the UK average. A deal agreed between the UK Government and the four mobile network operators in March 2020 should significantly improve coverage in areas so far left behind by commercial deployment.
Broadband networks have, on a number of occasions, received direct investment from governments across the UK. Mobile networks have instead been largely left to commercial deployment, with government levers used to incentivise rollout on the edges of commercial viability: for example, by tweaking planning rules for masts, or through Ofcom's allocation of "spectrum" (bands of radio frequencies over which mobile signals are transmitted).
March 2020 saw the UK Government agree to invest over £500 million in a Shared Rural Network. This plan will see the four mobile network operators – who are also putting up over £500 million of their own resources - develop a network of new and existing phone masts, overseen by a jointly-owned company called Digital Mobile Spectrum Limited.
By the end of 2025, 4G coverage from all operators in Wales should increase from 60% to 80%. Coverage from at least one operator should increase from 90% to 95%.
It's now three years since mobile network operator EE launched the UK's first live 5G trial in Canary Wharf. Ofcom says that it is still too early to report on 5G coverage as it does previous iterations of mobile network technology. But we do know that 3% of UK 5G sites are located in Wales, compared with its 5% of the UK population. As the 4G gap narrows, what government intervention will be needed to stop a 5G gap taking its place?
---
Article by Robin Wilkinson, Senedd Research, Welsh Parliament