The Minister for Education will deliver a statement in Plenary on 18 June regarding Adult Learning Week.
This blog post provides a brief overview of adult learning provision, presents some key facts, and finally, provides information regarding funding decisions that have had an impact on adult learning in Wales.
An Overview of Adult Learning in Wales
References to adult learning are sometimes a reference to so-called Adult Community Learning.
In practice, Adult Community Learning (ACL) is treated by Welsh Government as a particular type of education provision which it funds via the Community Learning Grant to local authorities, and which is also delivered by Adult Learning Wales, a pan-Wales further education institution.
However, most adults learners access a much wider range of lifelong learning provision that also includes full and part-time higher education, general and vocational further education and a variety of apprenticeships.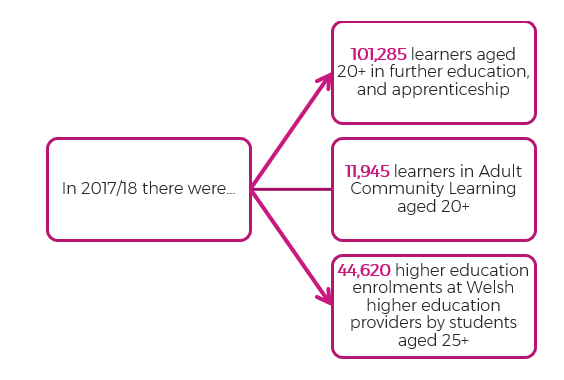 Source: StatsWales and HESA
The figures below provides an overview of what is available.
Key facts by sector
This section provides key facts on adult learning, looking first at higher education, then further education and ACL, and then finally the apprenticeship programme.

Source: HESA (25 and over to exclude Yr 3/4 undergraduates from count)
As can be deduced from the above graphic regarding part-time students: any policy which influences the number of part-time students in higher education will disproportionately impact on adult learners.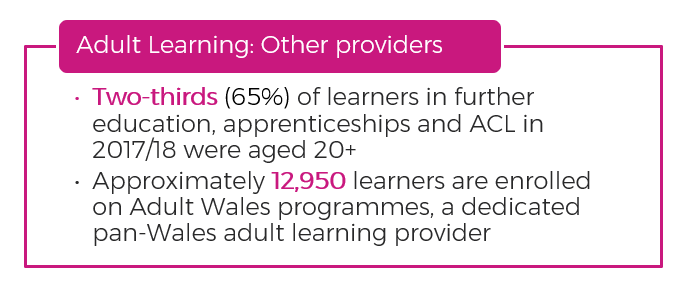 Source: StatsWales (Unique learner numbers at FECs, WBL and ACL by age)
Of those learners aged 20+, 94% were enrolled either on a further education programme or on an apprenticeship. The remaining 6% were enrolled on Adult Community Learning programmes.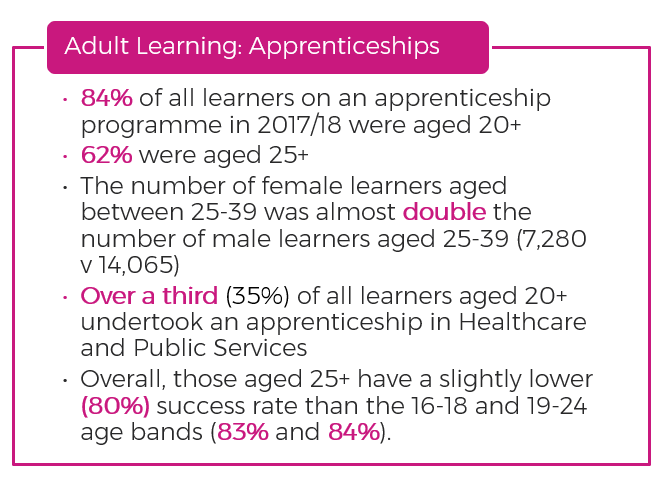 Source: StatsWales and Welsh Gov Statistics and Research
The above figure shows that the Welsh Government's apprenticeship programme has been a significant opportunity for adults wishing to undertake lifelong learning, with over 25,000 apprenticeships started by those aged 20+ in 2017/18. This is despite the Welsh Government policy that assigned adults over 20 a lower priority for accessing an apprenticeship.
Funding Decisions: Impacts on Adult Learning
This section highlights a number of funding decisions which have had an impact on adult learning in Wales, specifically part-time provision and the so-called ELQ, or Equivalent Level Qualification rule.
Part-time funding decisions
As seen above, 76% of part-time higher education enrolments in 2017/18 were by students aged over 25. At the same time,
within further education, 89% of all part-time learners were aged 20+, and 78% were aged 25+;
within ACL, 87% of learners were aged 25+.
This shows that decisions which impact the funding of part-time and community learning will disproportionately impact adult learners.
Like in England, since 2013/14 the number of part-time learners in higher and further education, as well as community learning, have declined in Wales. The graphic below shows the decline in adult part-time learners:
Source: StatsWales
From 2018/19 Welsh Government has begun to introduce the "generous" and so-called Diamond package of financial support for full and part-time higher education students.
Significantly, the part-time package provides a pro-rata version of the full-time package, including maintenance grants and loans for living costs.
The latest data from the Student Loans Company shows a 35% increase in part-time students receiving financial support in 2018/19 (the first year of the new package) compared to the same time in 2017/18. Based on the part-time data shown above, it is possible adult learners will be disproportionately represented in this increase in support recipients, although it is too early yet to have definitive data.
Whilst it may be the case that part-time higher education is sensitive to the support package on offer to students, funding for part-time further education provision and Adult Community Learning is more directly influenced by Welsh Government. This is because it is far more reliant on central grant funding from Welsh Government rather than the fees paid by individual students as in the case of higher education (although universities do receive a sizeable grant to support part-time programme delivery).
In addition, whilst a higher education student can access up to £5,111 a year to study part-time, an adult further education student may receive up to £750 a year to pursue a part-time further education course.
Recent Welsh Government policy for further education, as stated by the Auditor General for Wales, has been to prioritise the available funding for its statutory 16-19 provision.
The result of this decision is laid out in a 2017 report of the Auditor General for Wales who showed that between 2011/12 and 2016/17 overall revenue funding for further education institutions fell by 7% in cash terms, but that amidst this overall reduction:
full-time further education funding actually increased by 3%; whilst
part-time further education funding saw a 71% reduction.
This has resulted in the funding methodology for part-time further education provision becoming more focussed in light of reduced funding levels, with the most recent change in methodology being introduced for next academic year 2019/20.
From 2019/20, after funding Basic Skills and GCSE resits, remaining funding for part-time provision has been allocated "according to population that have not yet achieved a level 3 qualification (highest qualification is level 2 or below" (Source: unpublished Welsh Government funding letter to FE Principals, 31 Jan 2019).
Furthermore, the Community Learning Grant which funds Adult Community Learning was also reduced by 37.5% in 2014/15, but now remains stable in the 2018-19 budget at £4.3 million.
Welsh Government, in its 2016 Adult Learning in Wales strategy set out what type of ACL provision it would fund in the future, stating that it intended to:
ensure funded provision is targeted at those in greatest need with a clear emphasis on addressing Essential Skills, Digital Literacy and ESOL (English as a Second Language) needs.
Wales' "One degree" student financial support system
Students (with some exceptions) who wish to study for a higher education qualification that is at the same or lower level than one they already hold, are not normally eligible to receive further student funding even if they have left their previous entitlement unused – this is called the Equivalent Level Qualification, or ELQ rule. This is a significant rule for adult learners as they are of course much more likely to hold a previous qualification that would trigger the "ELQ" rule.
The "ELQ" rule in Wales is broadly similar to that in England where the recent Independent Panel Report to the Review of Post-18 Education and Funding (so-called Augar review) recommended it be scrapped, explaining that:
These ELQ restrictions are both complex and very unusual: they do not, for example, exist in Canada, Australia or New Zealand, whose HE systems are quite similar to England's, as discussed further below. They make it difficult to change subject and difficult to retrain
Furthermore, the 2015 Diamond Review which recommended the current student support package, also recommended scrapping the ELQ rule. However this was rejected by Welsh Government in its response to the report, who stated that:
we have a number of concerns about the stability and sustainability of a system that removes existing restrictions on previous equivalent or lower qualifications (ELQs)
The Future
Looking ahead, the Minister for Education and the First Minister agreed in December 2018 to "explore how we can deliver a new Welsh right to lifelong learning, investing in the skills which people need throughout their lives".
At the same time Welsh Government has launched and closed a consultation on the delivery of Adult Community Learning but it has yet to respond to its findings.
As well, Welsh Government have announced the piloting of Personal Learning Accounts from September 2019 which will allow "workers to fund personal vocational training in sectors where there is a skill shortage, including digital and STEM areas".
Further into the medium term, Welsh Government has the wider policy aim of creating a new strategic funding and planning body for the post-16 tertiary education sector that would bring together higher education, further education, apprenticeships, Adult Community Learning and potentially school 6th Forms. This body is expected to be established by 2023 via the introduction of a Post-Compulsory Training, Education and Research (PCETR) Bill by May 2021.
---
Article by Phil Boshier, Senedd Research, National Assembly for Wales