Ever since the UK voted to leave the EU, those interested in rural Wales have been debating how our rural land should be managed after Brexit.
Given that farmland makes up some 80% of land in Wales, a key question to resolve is what will replace the EU's Common Agricultural Policy (CAP) once we've left the EU.
CAP currently provides the framework for agriculture and land management policy and funding across the EU. In Wales, as elsewhere, it's been criticised by famers and conservationists alike for being overly bureaucratic and not fulfilling its agricultural or environmental objectives.
There are, of course, other important issues that also need to be resolved before we have a clearer picture of how land management policy will look after Brexit. These include how a future policy will be funded and what the future trading relationship with the EU will be.
We'll take a step closer to understanding the direction of travel on 8 May 2018, when the Cabinet Secretary for Energy, Planning and Rural Affairs, Lesley Griffiths AM, makes a statement in the Assembly on "the future of land management".
What has been the Welsh Government's position so far?
The Cabinet Secretary first set out her "five core principles" to underpin a new Welsh land management policy during a speech to the NFU Conference on 20 February 2018. The five core principles are:
We need to keep farmers on the land. Welsh land must be managed by those who know it.
We need to ensure our agricultural sector can be prosperous and resilient in a post-Brexit future, whatever that may be.
Our new policy should centre on Welsh land delivering public goods for all the people of Wales.
Our system of support should be accessible to all. That means giving farmers the opportunity to continue to make a living from the land.
We must not turn our backs on food production. Where sustainable production is viable, we must help our farmers compete in a global marketplace.
The Cabinet Secretary called for a well-planned transition period "over a number of years" from CAP to the new policy. She stated that the current Basic Payment Scheme "will not help us withstand the changes brought by Brexit" and that a different support system would be needed. The Basic Payment Scheme currently provides direct payments to farmers and makes up the lion's share of the CAP funding Wales receives.
The Cabinet Secretary visited New Zealand in April 2018 and met with representatives from the New Zealand agriculture industry. She noted that following the visit she was "more convinced than ever" that a transition phase is needed.
In a written statement on 21 March 2018, the Cabinet Secretary confirmed she would bring forward "initial proposals for reform" by summer recess. She also said that "we need not choose between food production and public goods. Whilst food production itself is not a public good, there is no reason why the same farm cannot produce both." The Cabinet Secretary not considering food production to be a public good has proved controversial with farmers (see below).
The Minister for Environment, Hannah Blythyn AM, delivered a statement in the Assembly on 17 April 2018 setting out her priorities and shedding more light on issues that the new land management policy will address.
The Minister said she would work with the Cabinet Secretary to use "public money to deliver public goods by rewarding land managers for restoring and maintaining a healthy environment". She also said the Welsh Government was committed to maintaining and improving environmental standards after Brexit.
The Minister's priorities (amongst others) include:
Reversing the decline in biodiversity and improving ecosystem resilience;
Increasing woodland cover to deliver both economic and environmental benefits; and
National Parks and Areas of Outstanding Natural Beauty (AONBs) to be exemplars on the sustainable management of natural resources (SMNR), particularly in terms of biodiversity and woodlands.
In a previous statement on 23 March 2018 the Minister said that National Parks and AONBs will have an important role in delivering the new land management policy: "They need to play their part in supporting farmers and other land managers to remain on the land, as well as making a key contribution to the priorities within the natural resources policy."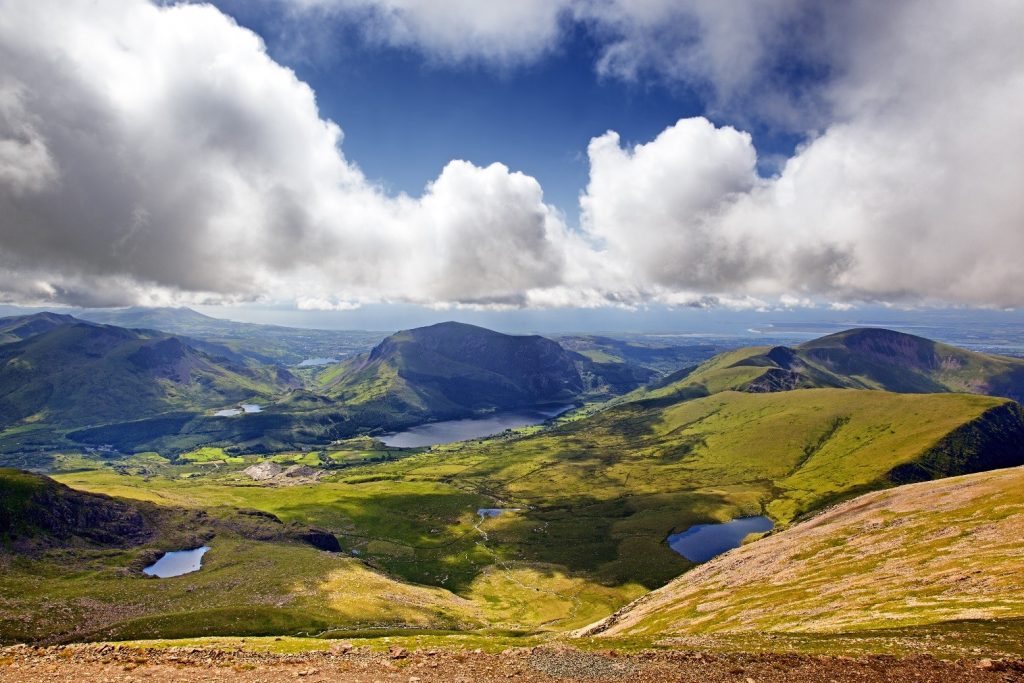 What have stakeholders said?
NFU Cymru has welcomed the Cabinet Secretary's approach. Responding to her March statement, NFU Cymru President, John Davies, said that it "lays the foundations for securing a bright future for this industry through a policy that supports our primary role as food producers whilst also caring for and enhancing our environment and landscapes."
NFU Cymru published a vision for a new domestic agricultural policy (PDF 708KB) in summer 2017.
The Farmers Union of Wales (FUW) offered a more cautious welcome. FUW President, Glyn Roberts, said the five principles "could easily be supported in broad terms" but the new policy needs to be developed carefully based on detailed analysis.
FUW also expressed concern over the Cabinet Secretary not recognising food production as a public good and noted that there remained questions around how payments for providing environmental public goods would comply with World Trade Organisation (WTO) rules. FUW has published a number of relevant briefing papers on its website.
Both NFU Cymru and FUW support a well-planned transition period.
Wales Environment Link (WEL) – a network of environmental non-governmental organisations – published its sustainable land management vision (PDF 9.10MB) in July 2017. The vision calls for land management to secure benefits for people, the environment and nature, as well as an economic future for land managers:
… As well as products such as food and timber, we need a flourishing natural environment, rich in wildlife, to provide services like clean water, healthy soils, flood alleviation, carbon sequestration, and the benefits to our wellbeing that contact with nature brings. In turn, these ecosystem services could play a key role in supporting a prosperous rural economy, if investment is made now in nature's restoration. …
WEL's vision calls for maintaining and enhancing environmental standards after Brexit, and for public money to only be made available for delivering public benefits. The vision also says that the new land management policy should be developed according to the principles of SMNR and within the framework of the seven well-being goals. Finally, WEL calls for the new policy to be monitored regularly and for the outcomes to be reported to the Assembly.
In January 2018, WEL supplemented its vision with a position statement on future funding for sustainable land management (PDF 655KB).
What work has the Assembly done in this area?
The Climate Change, Environment and Rural Affairs (CCERA) Committee has undertaken two major inquiries in this area.
The future of land management inquiry report (March 2017) recommended that the Welsh Government should develop a new support system that delivered sustainable outcomes and high quality food. The Committee also said there should be a transitional period equivalent to the duration of the remainder of the current and the next CAP funding cycles. Other recommendations included ensuring that future funding:
is based on delivering outcomes which contribute to targets for climate change adaptation and mitigation;
supports the enhancement of biodiversity and delivers on the objectives of the Nature Recovery Plan;
rewards land managers for improving access to the countryside; and
is not subject to the Barnett Formula.
The woodland inquiry report (July 2017) highlighted the need to increase woodland cover, and the opportunity to bring commercial forestry and agriculture together in a more joined up land management policy.
What is the UK Government's position?
The Secretary of State for Environment, Food and Rural Affairs, Michael Gove MP, also delivered a speech to the NFU Conference setting out his priorities for agriculture after Brexit.
The following week, on 27 February 2018, the UK Government launched a consultation on a future agriculture policy for England. While the document concentrates primarily on England, the final three sections apply to the UK as a whole: "Devolution: maintaining cohesion and flexibility", "International trade" and "Legislation: the Agriculture Bill".
The CCERA Committee has responded to the consultation (PDF 150KB) drawing on evidence collected during its future of land management inquiry.
On 9 March 2018, the UK Government published its provisional assessment of where common UK frameworks might be required after Brexit in areas of EU law within devolved competence. The Cabinet Secretary for Finance and Local Government, Mark Drakeford AM, issued a written statement on 14 March 2018 clarifying that this document had not been agreed with the Welsh Government and does not represent its views.
The assessment currently shows that areas of EU law relating to agriculture, such as agricultural support and animal welfare "may require legislative frameworks". Discussions between the UK Government and the devolved administrations are ongoing. The outcome of these discussions could have a bearing on the extent to which decisions by the UK Government will influence future land management policy in Wales.
What about funding?
The UK Government has committed to maintaining agricultural funding until 2022. This has allowed the Welsh Government to make the same commitment.
The Welsh Government has repeatedly stated that it opposes future funding for land management being subject to the Barnett Formula, on the basis that this would dramatically reduce the amount of money Wales receives. The Cabinet Secretary restated this position in the Assembly on 21 March 2018.
CAP is expected to provide around €2.6 billion of EU funding to Wales between 2014 and 2020: €1.95 billion for direct payments (roughly €279m a year over the seven year funding period) and €665.8m for rural development.
FUW suggests that funding could be reduced by 40 per cent if the Barnet Formula were used, and the First Minister, Carwyn Jones AM, has stated that the reduction could be as high as 75 to 80 per cent.
---
Article by Elfyn Henderson, National Assembly for Wales Research Service