This article was previously published on 21 December 2017. It is being reposted ahead of the Plenary debate on 16 January 2018.
Following the Welsh Government Final Budget for 2018-19, the Cabinet Secretary for Local Government and Public Services published the Final Local Government Settlement 2018-19 on 20 December 2017. This outlines funding for each of Wales' twenty-two local authorities. The settlement will be debated in Plenary on 16 January 2018.
The total settlement is £4.214 billion, which is an increase of £8.7 million (0.2%) when compared to the Final Settlement in 2017-18. The Final Settlement includes additional funding of over £28 million compared to the Final Budget 2018-19, following allocations of £20 million to local government, £7 million to support the increase to the capital limit in charging for residential care, and £1.3 million for discretionary business rate relief.
The Final Settlement includes increases and decreases in funding for different local authorities. The largest increase is 0.9% in Cardiff and the largest decrease is -0.5% for three local authorities (Blaenau Gwent, Conwy and Monmouthshire).
The full breakdown of percentage changes in funding by local authority is outlined in the graph below.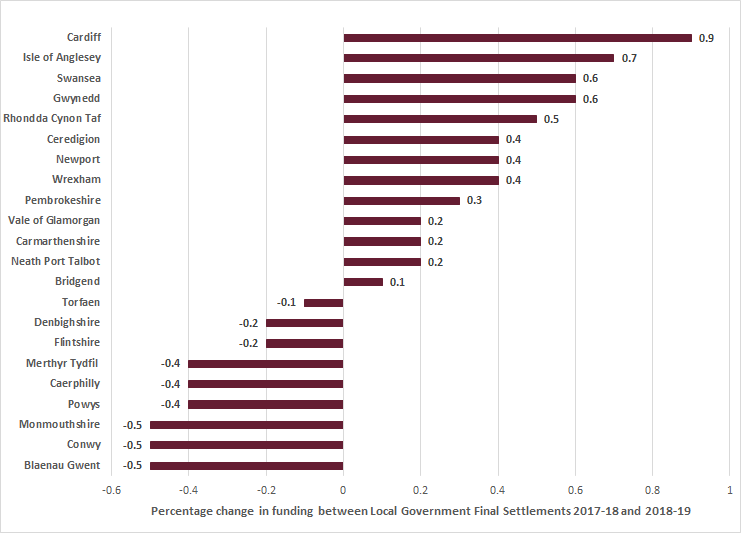 This year no authority will experience a decrease more than -0.5%, following the additional allocations made in the Final Budget. The three authorities where the funding decrease is -0.5% have received top-up funding totaling £807,000 to ensure they do not experience a reduction beyond this level, allocated as below:
Blaenau Gwent – £717,000
Conwy – £39,000
Monmouthshire - £51,000
General Capital Funding for local authorities in 2018-19 is £143 million.
The Cabinet Secretary's letter to local authorities, the Local Government Finance Report 2018-19 and the Local Government Revenue and Capital Settlement 2018-19: All Wales – Tables, can be found on the Welsh Government website.
---
Article by Gareth Thomas, National Assembly for Wales Research Service