In the face of an obesity epidemic in Wales, will the new Welsh Government be equipped to tackle one of the major public health challenges of our time, or will it prove too complex?
Obesity is a leading cause of preventable death in Wales, and along with its associated health conditions, puts significant pressure on health services. It costs NHS Wales £73 million per year, rising to nearly £86 million if overweight people are also included. Obesity increases the risk of developing heart disease and can contribute to chronic conditions such as type 2 diabetes, some cancers, high blood pressure, muscular-skeletal conditions and depression. Obesity can affect a person's well-being, quality of life and ability to earn. Obese children can experience health problems and are also more likely to be obese in adulthood. Although the previous Welsh Government put initiatives in place to tackle the condition, obesity levels are currently not noticeably reducing. Poor diet and sedentary lifestyles are major factors, but there is also a link between obesity and deprivation: obesity levels are higher in deprived areas including Merthyr Tydfil, Rhondda Cynon Taff, Caerphilly, Blaenau Gwent, Torfaen and Neath Port Talbot.
Prevalence of obesity
The Welsh Health Survey 2014 reported that 22% of adults in Wales are classified as obese and 58% of adults are classified as being overweight or obese. This is an increase from the figure of 54% when the survey was first published in 2003/04. The prevalence of overweight and obese adults rises with increasing deprivation, from 53% in the least deprived areas to 61% in the most deprived areas. The picture amongst Welsh children remains challenging. Public Health Wales's Child Measurement Programme for Wales 2013/2014 shows that 27.3% of children were overweight or obese. This prevalence also rises with increasing deprivation, from 22.2% in the least deprived areas to 28.5% in the most deprived areas. The figure for children in reception year (4-5 year olds) in Wales was 26.5% – higher than any English region where the highest prevalence was 24%.
Addressing the problem
In 2010 the Welsh Government launched the All Wales Obesity Pathway, setting out the approach to preventing and treating obesity in children and adults. The Pathway sets out a four-tier obesity services framework: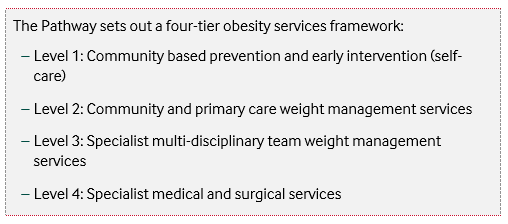 The causes of obesity are complex, and can include medical, societal and economic factors. The previous Welsh Government attempted to address the different factors with a variety of policy and legislative levers focussing on good nutrition and physical activity, including: Our Healthy Future; Change4Life; MEND; the Active Travel (Wales) Act 2013; Creating an Active Wales; Appetite for Life and Climbing Higher. Recent initiatives proposed by politicians and health professionals in Wales to reduce obesity include a tax on sugary drinks and banning advertisements that market food and drink high in fat, salt and sugar. In 2016 Public Health Wales launched a 10-step checklist to tackle childhood obesity.
Concerns over progress
There have been criticisms that the Obesity Pathway has not been fully implemented and there is a lack of Level 3 services, as well as calls for a clearer national direction on tackling obesity. Fourth Assembly committees undertook inquiries on the availability of bariatric services and childhood obesity. Both inquiries raised concerns about how successfully and consistently the Obesity Pathway is being delivered. A review of progress against the Pathway in 2014 found that all Welsh health boards were providing level 1 and 2 services, but level 3 provision was inconsistent. The Welsh Government acknowledged that more needed to be done and the Fifth Assembly would need to ensure these concerns are addressed. Some potential areas for action are not fully devolved. For example, Wales's ability to influence the food and drinks industry is restricted and a co-ordinated approach at UK and EU level may be needed to maximise opportunities in tackling obesity.
Considerations for the Fifth Assembly
Obesity is influenced by a number of factors, including socio-economic deprivation. There are also concerns about the potential cultural 'normalisation' of obesity. Suggestions have been made that efforts to tackle the problem need sufficient national leadership and a co-ordinated approach across Welsh Government departments, particularly in promoting healthy eating and exercise. Some long-standing initiatives aiming to reduce obesity in Wales are still lacking in impact and failing to realise their potential. Members of the Fifth Assembly and the Welsh Government will need to determine why some current initiatives are failing to make sufficient progress, and may need to consider new approaches to create a greater impact on the obesity problem. Since the above article was released in the 'Key Issues for the Fifth Assembly' publication, initial headline results for the Welsh Health Survey 2015 have been published. The 2015 results show that obesity levels in Wales have increased: 24% of adults are classified as obese and 59% of adults are classified as overweight or obese. There has also been an increase in the prevalence of overweight and obese adults in relation to deprivation in Wales, with 54% in the least deprived areas and 63% in the most deprived areas.
Key sources
Article by Rebekah James, National Assembly for Wales Research Service