Despite an overall reduction in traffic collisions since 1993, there were almost a thousand serious incidents in Wales in 2018. These resulted in 1137 people being killed or seriously injured, of which 80 were children.
The data shows the largest proportion happened on roads with a 30mph speed limit, representing 50% of all collisions and 40% of collisions where someone was killed or seriously injured (KSI).
Casualties and KSI casualties by speed limit in 2018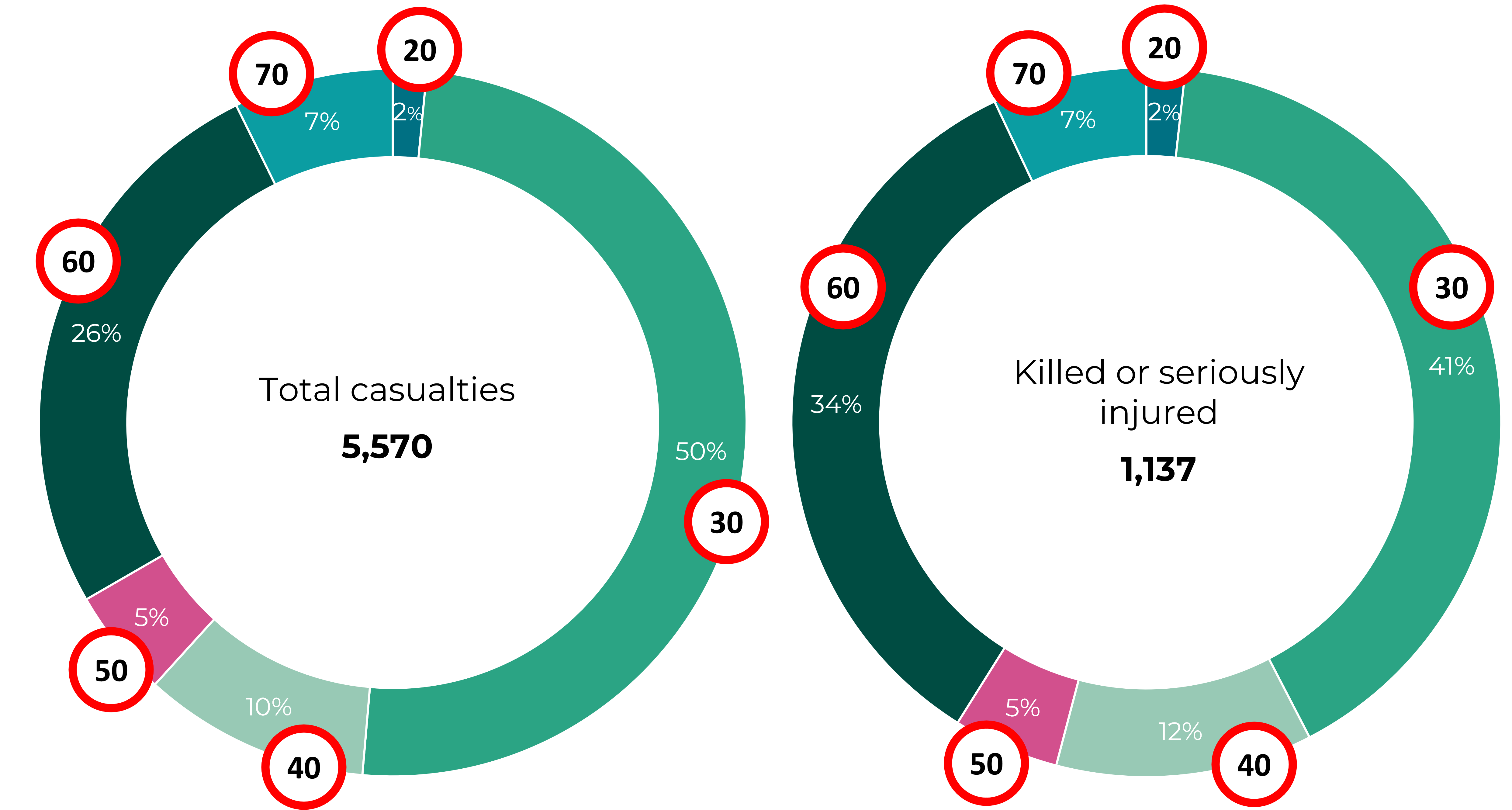 Source: Welsh Government.
Road safety targets
In 2013, the Welsh Government set three targets to improve road safety so that by 2020, compared to the baseline average for 2004-2008, there would be:
40% fewer people killed and seriously injured on Welsh roads
25% fewer motorcyclists killed and seriously injured on Welsh roads
40% fewer young people (aged 16-24) killed and seriously injured on Welsh roads
The Road Safety Framework was reviewed in 2018. It was decided that while the targets would remain the same to 2020, performance against the targets would in future be measured against a five year average.
When the 2004-08 baselines are compared with 2016-19 averages, the data suggests that only the target for reducing the number of young people killed or seriously injured was making sufficient progress. Data published in 2021 states that COVID-19 had a significant impact on the number of road accidents and casualties in 2020. Road traffic volume decreased by 23.4% compared to 2019 and accidents involving personal injury were 33.9% lower than in 2019.
Have the 2020 Road Safety Targets been met?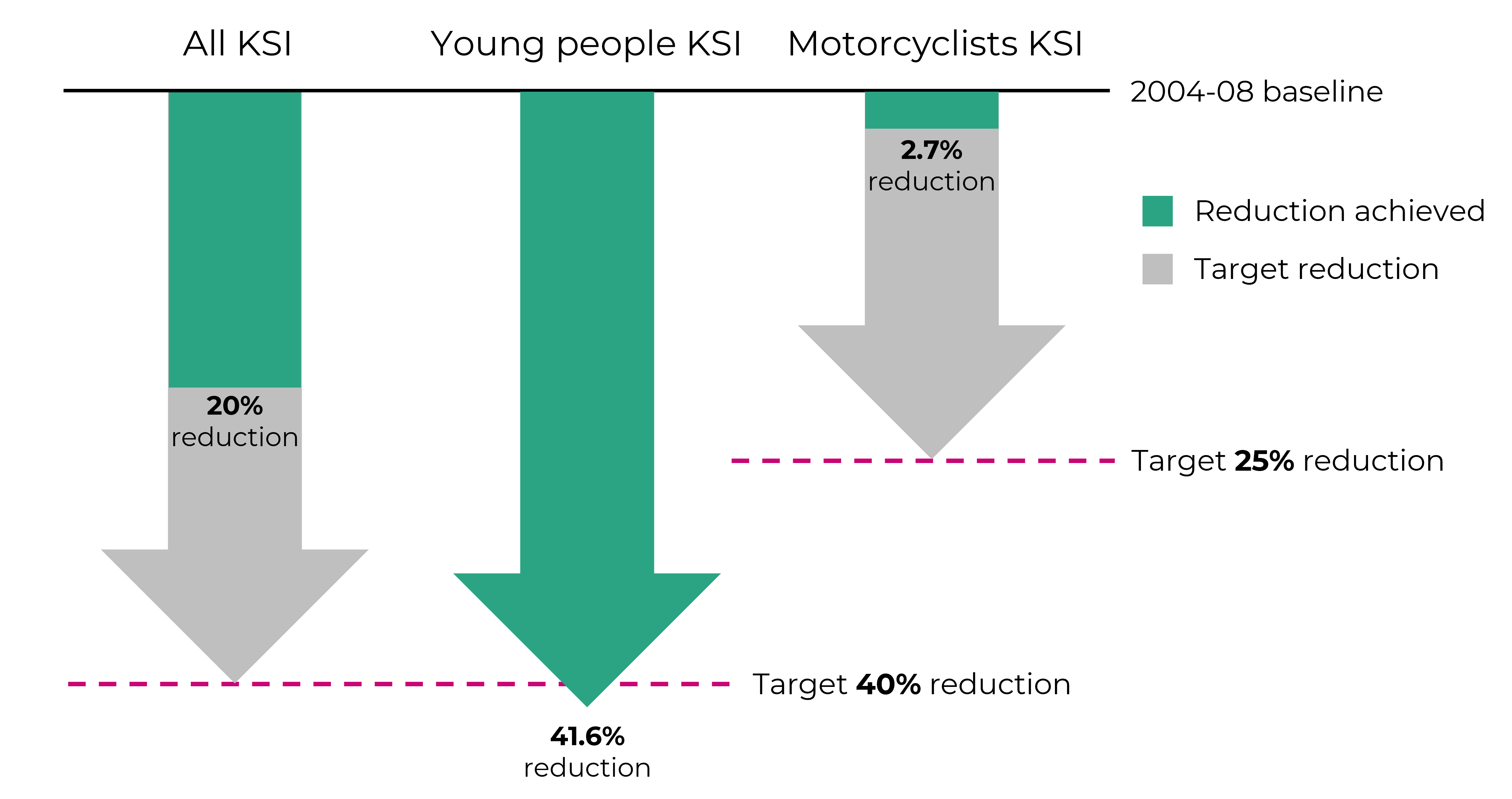 Source: Welsh Government. Grey arrows show the target reduction. Green shows the actual reduction in KSI casualties from the 2004-08 baseline to the 2016-2019 average.
Is there much difference between 20mph and 30mph?
30mph is the default speed limit for the majority of our urban and residential streets, known as 'restricted roads'. These are defined as roads with street lights every 200 yards.
In 2018, the Welsh Government asked Dr Adrian Davis to review the evidence that reducing urban speed limits can reduce the number of collisions. The Review concluded that:
For casualty reduction the evidence is consistent that casualties are reduced as a result of 20mph speed limits.
The Organisation for Economic Co-operation and Development has said that this is partly because there is more time for drivers to react. It takes around one second for a person to react to an unexpected event, and at a greater speed the vehicle will have travelled a greater distance during that time. It found that for every 1mph reduction in average speed on urban roads there is a 6% reduction in collisions.
In 2019, then Minister for Economy and Transport, Lee Waters, established a Task Force Group to make recommendations on how to implement a national roll out of 20mph. It found 'overwhelming evidence' over more than two decades that lower speeds result in fewer and less severe collisions. The risk of being killed, it says, is almost five times higher in a collision between a car and pedestrian at 31mph (50km/h) compared to the same type of collision at 18.6mph (30km/h).
At the point a 20mph car would have stopped, a 30mph car would still be doing 24mph.
Health inequalities
In its case for change, the Task Force Group report points to current health inequalities, for example, the link between traffic injuries and poverty. Child pedestrian deaths in deprived neighbourhoods are over four times those in affluent neighbourhoods One report suggests this is partly due to vehicles 'rat running' through residential streets coupled with the reduced likelihood of children having a garden or playground close to home.
The report also notes that fast moving traffic is one of parents' biggest fears when deciding how their children travel to school. It found that travelling by car to counter that fear has the dual impact of increasing traffic on the roads while also encouraging sedentary behaviours across the life course of the child, causing 'further social, physical and mental health inequalities'.
What is being proposed?
Only around 1% of the urban road network in Wales is currently subject to 20mph limits, even though most roads only serve residential areas. Currently, changing a road to 20mph can be done by the highway authority using a Traffic Regulation Order (TRO), and requires the installation of repeater signage to indicate that there is a different limit on that road. Local authorities have identified the cost and complexity of this as a barrier to the introduction of 20mph limits.
The Welsh Government is therefore proposing to change the default national speed limit for restricted roads from 30mph to 20mph.
In November 2020 the Welsh Government undertook a national survey which found strong support for the plans, especially among parents or those with children in the household.:
All participants were then asked directly whether they would support a speed limit of 20 mph in the area in which they lived. Four in five Welsh adults (80%) said they would, compared to one in five (20%) who would not.
Following this, a 2021 pilot scheme to introduce 20mph limits began in eight areas across Wales. The aim of this is to develop enforcement arrangements and overcome unforeseen issues before the full rollout, planned for 2023.
This policy is not universally supported. While the Welsh Government found support in the survey data and in focus groups, 53% of responses to its consultation on the proposals were opposed. Some of the reasons given included longer journey times, increased congestion and that it could 'annoy' drivers. The Senedd Petitions Committee is considering a petition which opposes the national approach to setting the default speed limit at 20mph.
Under the proposals, changing the default speed would not affect the powers of local authorities to set local speed limits, it would simply reverse the process. Exceptions to 20mph would require a TRO where a higher speed is justified. Transport for Wales has developed a tool to assist authorities in achieving a consistent approach to making exceptions across Wales.
The legislative process
Following a debate in the Senedd in July 2020, there was cross party support for the Welsh Government's intention to commence the reform process, with 45 of 53 Members of the Senedd voting in favour of the proposal.
Section 81 of the Road Traffic Regulation Act 1984 gives the Welsh Ministers power to make subordinate legislation to increase or decrease the speed limit for restricted roads. This would need to be passed by the Senedd using the affirmative procedure, i.e. it would require a further vote to approve the legislation.
The announcement of the Welsh Government's legislative programme in July 2021 included a commitment to bring this legislation forward within the first year of the Senedd. The Welsh Government laid the draft statutory instrument on 21 June, with the Plenary debate planned for 12 July. You can follow live on Senedd.tv.
---
Article by Rhiannon Hardiman, Senedd Research, Welsh Parliament