In March 2013, the Welsh Government purchased Cardiff Airport following falls in passenger numbers and a reported lack of investment (PDF 459KB) by former owners. In this article we look at the trends in the Airport's passenger numbers, and how flight destinations have changed.
Ahead of the Assembly debate on 10 March 2020 you can find further information about the Welsh Government's purchase of Cardiff Airport in our first article in this series.
How many passengers have been using Cardiff Airport?
The graph below shows that, in 2012, Cardiff Airport handled just over a million passengers*. This was almost 50 per cent less than passenger numbers in 2008.
After fluctuating in the early years of the Welsh Government's ownership, since 2014 passenger numbers have increased year-on-year, reaching almost 1.6 million in 2018.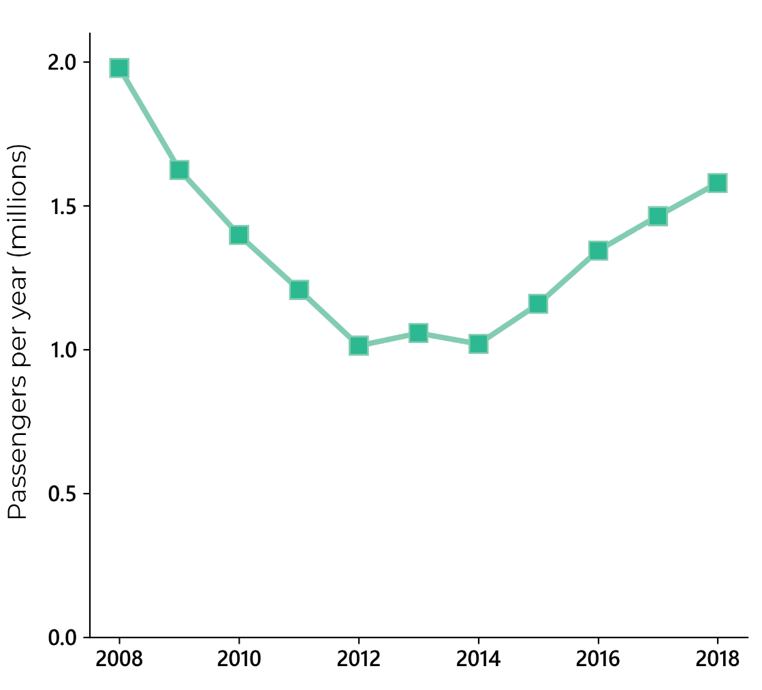 Source: Senedd Research analysis, Data from the Civil Aviation Authority, 2018, Terminal PAX Timeseries (Table 10.3)
Passenger numbers: the "tipping point"
In its Masterplan 2040 (PDF 6.1 MB), Cardiff Airport states that its aim is to achieve 2 million passengers by 2021. The Airport's Chief Executive told the Public Accounts Committee (PAC) about the significance of this target for the Airport's financial performance:
[…] the growth in passenger numbers is so critical, because you do reach a kind of tipping point around the 2 million mark where those fixed costs start to be balanced out and then the profitability starts to pick up really quickly. So, it emphasises again the importance for us of getting passenger numbers back up to that level.
The fixed costs referenced by the Chief Executive are the costs incurred by the airport irrespective of the number of passengers. These costs include things such as regulation and security arrangements.
In a letter to PAC in February 2020, the Welsh Government reported that the Airport's current forecasts suggested that it will hit the 2 million passenger target in 2025.
The impact of Flybe's collapse on Cardiff Airport
Early today (5 March 2020), Flybe - which operated from Cardiff Airport - announced it had ceased trading and all its flights had been cancelled. This followed reports it was experiencing financial difficulties and had agreed a rescue deal with the UK Government earlier this year.
In a letter to PAC, the Welsh Government said between 320,000 and 340,000 passengers flew "in a 12 month period" on the eight routes Flybe operated from Cardiff Airport.
In her statement, Cardiff Airport's Chief Executive said:
As one of the UK's largest regional airlines, Flybe is a well-known brand across South Wales and has made a hugely positive impact on Cardiff Airport and confidence in the Airport over recent years.
She also reported:
We are actively talking to a number of airlines about the opportunity that exists in flying to and from south Wales. Given the Flybe news we will focus on filling the core domestic routes which Flybe serve for the region.
The news about Flybe follows the announcement in September 2019 about the collapse of Thomas Cook, which also operated from Cardiff Airport. The Welsh Government told PAC that around 120,000 (or 10%) of Cardiff Airport's passengers flew with Thomas Cook.
Comparing Cardiff Airport with its peers
A recent report commissioned by Cardiff Airport (PDF 3 MB) compares the trend in its passenger numbers against a sample of 19 small and medium sized regional airports in the UK. The graph below shows how passenger numbers have changed between the two periods of 2008-2012, and 2012-2018. The airports are ranked by the largest percentage change in passenger numbers between the two periods.
Between 2008 and 2012 passenger numbers at Cardiff Airport fell by 49%. Only 2 of the 19 airports in the sample saw a bigger drop in passenger numbers during that time – Teesside Airport and Cornwall Airport Newquay.
However, between 2012 and 2018, Cardiff Airport saw an increase of 56% in its passenger numbers. During this period only three airports saw a larger growth in passenger numbers than Cardiff Airport - Cornwall Airport Newquay, London Southend, and Doncaster Sheffield Airport.
Source: Senedd Research analysis, A Review of Cardiff Airport's Performance and Prospects in the Context of Current UK Regional Airport Economics, Northpoint (February 2020)
Destinations from Cardiff Airport have changed over time
Mainland Spain (and the Balearic Islands) is the most popular destination from Cardiff Airport, with passenger numbers increasing between 2012 and 2018. Over the same period the Irish Republic and many other European countries including France, Germany, Italy, and the Netherlands each saw passenger numbers grow by between 30,000 and 60,000.
In May 2018, Qatar Airways, launched a service between Cardiff and Hamad International Airport in Doha. Hamad International Airport serves as a transfer point, opening up a range of other destinations for people travelling to and from Cardiff. Over 55,000 passengers flew between Cardiff and Qatar in 2018.
On the other hand, as well as growing passenger numbers and new routes, airlines have also reduced capacity on, or withdrawn, some routes. The largest reduction in passenger numbers was reported for Turkey, with over 20,000 fewer passengers flying there in 2018 than in 2012. The Civil Aviation Authority (CAA) data for 2012 included passengers for Egypt and Tunisia, but no passengers were shown as flying there in 2018.
The map below shows the change in flight destinations from Cardiff Airport from 2012 to 2018. The shading indicates the scale of the changes in passenger numbers for each destination: the darker the shading, the greater the growth (teal) or fall (red) in passenger numbers to those destinations.
Note: While data is available for individual airports, we have used the country of destination reported in the Civil Aviation Authority data for the purpose of illustrating the change in flight destinations on the map. For example, the change in passenger numbers for Spain reflects the difference between 2012 and 2018 in passenger numbers for all airports on the Spanish mainland and the Balearic Islands.

Source: Senedd Research analysis, Civil Aviation Authority Airport Data, 2012 to 2018
The picture in 2019
The overall upward trend in passenger numbers continued in 2019 when almost 1.7 million passengers used Cardiff Airport, an increase of almost 5% over 2018.
The graph below shows the top 10 destinations from Cardiff Airport in 2019. It shows the actual number of passengers and the percentage share of passengers to each destination.
Source: Senedd Research analysis, Civil Aviation Authority Airport Data 2019
Of those passengers who flew to domestic destinations, almost half flew to Edinburgh.
Source: Senedd Research analysis, Civil Aviation Authority Airport Data 2019
Find out more
On 10 March 2020 the Welsh Government will be holding a debate on the Airport which you can watch on SeneddTV.
PAC are also undertaking an inquiry into the Airport. The fourth evidence session will be held on 23 March 2020, which can also be watched on SeneddTV.
Our next article in this series will cover the financial performance of Cardiff Airport.
Note* The UK's aviation regulator, the Civil Aviation Authority, collects and publishes data relating to UK airport operations. These include data about the number of passenger journeys on direct flights, both inbound and outbound, rather than the number of individual passengers. This means that passengers on return journeys will be counted twice. The aviation industry describes the number of passenger journeys as 'terminal passengers'. We have used this data throughout the article, referring to them as 'passengers' or 'passenger numbers'.
---
Article by Joanne McCarthy, Lucy Morgan, Sam Jones and Joe Wilkes, Senedd Research, National Assembly for Wales