The Environment (Wales) Act 2016 introduces a number of measures to improve and protect the environment in Wales. It provides a change in approach for environmental issues; encouraging a systemic approach and integration with the Well-being of Future Generations (Wales) Act 2015 and Planning (Wales) Act 2015.
This briefing focusses on Part 1 of the Environment (Wales) Act 2016 and the sustainable management of natural resources (SMNR) approach.
New Publication: Sustainable Management of Natural Resources and the Environment (Wales) Act 2016 (PDF, 1586KB)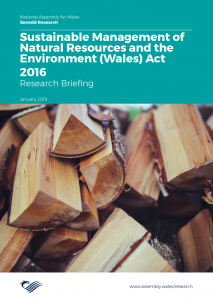 ---
Article by Chris Wiseall and Katy Orford, National Assembly for Wales Research Service
The Research Service acknowledges the parliamentary fellowship provided to Chris Wiseall by the Engineering and Physical Sciences Research Council which enabled this Research Briefing to be completed.