The Welsh Government published its Energy Generation in Wales 2017 report in October 2018. The report sets out the current energy generation picture in Wales and analyses how it has changed over time.
According to the report, in 2017, 78% of Welsh electricity generation in Wales came from fossil fuel plants, with the other 22% being generated from renewable sources. The total amount of electricity generation was 32.5 Terawatt hours (TWh), compared to 40TWh in 2016. Around 7.1 TWh of electricity generated in Wales is from renewables, up from 6.9 TWh in 2016.
In September 2017, then then Cabinet Secretary for Energy, Planning and Rural Affairs, Lesley Griffiths AM, made a Plenary statement on energy policy. In it she set a number of targets relating to renewable energy:
For Wales to generate 70% of its electricity consumption from renewable energy by 2030;
For 1 GW of renewable electricity capacity in Wales to be locally owned by 2030; and
By 2020, all new renewable energy projects to have at least an element of local ownership.
For reference:
1 MW = 1000 Kilowatt hours (KWh);
1 GWh = 1 000 000 KWh; and
1 TWh = 1 000 000 000 KWh.
Renewable energy
Renewable energy capacity in Wales increased by 313 Megawatts (MW) in 2017, reaching a total of 3683 MW. Over 84% of this capacity is from renewable electricity projects, with the rest from renewable heat projects. The increase in renewable electricity capacity in 2017 was less than a quarter of 2015's capacity increase.
The table below shows the number of different types of renewable energy projects in Wales in 2017, along with their generation capacity and estimated generation. Although 80% of the total number of projects in Wales are solar photovoltaics (PV), it is onshore wind that has the greatest electricity generation capacity and estimated electricity generation. Biomass has the greatest heat capacity and estimated heat generation.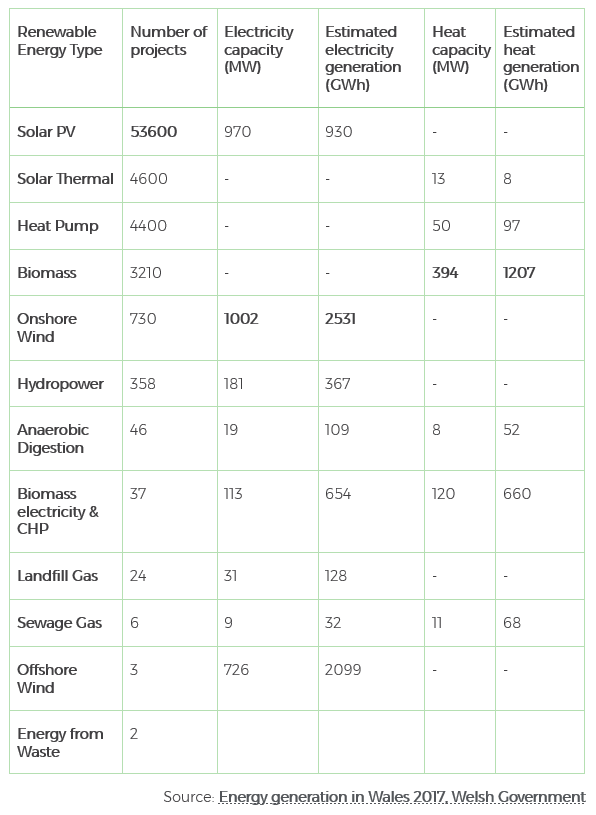 The local picture
Neath Port Talbot is the local authority area with the highest total installed renewable energy capacity (358 MW) and the greatest renewable energy generation with an estimated 1122 GWh. This is mainly due to the commissioning of the Margam wood fired power station, and the Awel Aman Tawe, Lynfi Afan and Mynydd Brombil onshore wind projects.
In terms of renewable energy consumption, the top five local authority areas with their energy electricity needs met through renewables are:
Ceredigion 119%;
Powys 88%;
Neath Port Talbot 77%;
Rhondda Cynon Taff 75%; and
Isle of Anglesey 48%.
Locally owned renewable energy
The definition of 'locally owned' covers projects owned by households, communities, local authorities, housing associations, other public sector bodies, charities, further education establishments, local businesses, and Welsh farms and estates. The Welsh Government has set a target of 1 GW of renewable electricity capacity to be locally owned by 2030.
There is now 529 MW of locally owned renewable energy in Wales, with capacity having increased by over 12% since 2016. There is also 221 MW of renewable heat capacity that is locally owned, an increase of 16% on 2016. In total there are over 63000 locally owned renewable energy projects, largely made up of domestic rooftop solar PV.
---
Article by Chloe Corbyn, Senedd Research, National Assembly for Wales