Introduction
The UK Committee on Climate Change (UK CCC) is an independent, statutory body set up under the UK Climate Change Act 2008. Its role is to provide advice and monitor progress on climate related issues for both the UK and devolved governments. In June 2018 the UK CCC published a progress report 'Reducing UK emissions - 2018 Progress Report to Parliament, Committee on Climate Change June 2018' (PDF, 5.93MB) to the UK Parliament outlining the current situation in the UK.
How is the UK doing?
The 2018 report highlights the progress that has been made to reduce emissions from 1990 levels. It shows a decrease of 43% in carbon emissions for the UK as whole. The UK CCC claims that decarbonising the energy sector has been the main achievement of the last decade, but warns of an uneven balance in emissions reduction.
The reports shows that emissions reductions have largely been due to the increasing efficiency of the power sector which have been responsible for 75% of emissions reductions since 2012, while most other sectors have remained near constant in regards to emissions on a UK scale.
Offshore wind is used as an example for how the combination of ambitious targets and well-designed mechanisms can be implemented to encourage industry to reduce costs and increase the uptake and wider economic co-benefits of new industries. The report suggests that lessons learnt from the off-shore wind industry should be used to help encourage the growth of further industries in line with the UK Government's Industrial Strategy (PDF, 9.51MB) which aims to help the UK gain a competitive advantage in low carbon technologies.
What about Wales?
Although the UK has made some real progress with regards to reducing emissions, reduction of Welsh emissions has not been as successful, with an average annual increase of 1.4% from 2009-2016. Total emissions in Wales increased by 5% in 2016. This follows falls in emissions in 2014 and 2015. Compared to 1990 levels, Wales has reduced emissions by 14%, which is some way off from the Welsh Government's Climate Change Strategy (2010) (PDF, 2.8MB) non-statutory target of a 40% reduction by 2020, with the UK CCC believing the target is very likely to be missed.
Under the Environment (Wales) Act 2016 the Welsh Government has moved to a carbon budget based approach to reduce emissions by 80% by 2050 compared to 1990 levels. The Welsh Government has announced the interim targets for 2020, 2030, and 2040, matching the targets UK CCC advised to the Welsh Government in December 2017, as seen in Table 1. The Welsh Government also announced their first two carbon budgets: an average 23% reduction for 2016-2020 and average of 33% reduction for 2021-2025. It should be noted that Climate Change, Environment and Rural Affairs Committee's Expert Reference Group (PDF, 655KB, p16) thought the UK CCC targets were not ambitious enough and could be seen to be 'rewarding failure'.

The UK CCC report says increases in Welsh emissions have largely been due to the increase in power demand, with the power sector's emissions showing a 21% growth between 2009-2016.
As power demand is increasing, the closure of Wylfa nuclear power station has meant that the demand needed to be met from other sources. Figure 1 shows that since the closure there has been an increase in power supply from gas.
The only remaining coal plant in Wales, Aberthaw B, is due to be closed by 2025 under the UK Government's plan (PDF, 247KB) to end unabated coal; in 2015 Aberthaw Power Station accounted for 51% of Welsh power generation emissions.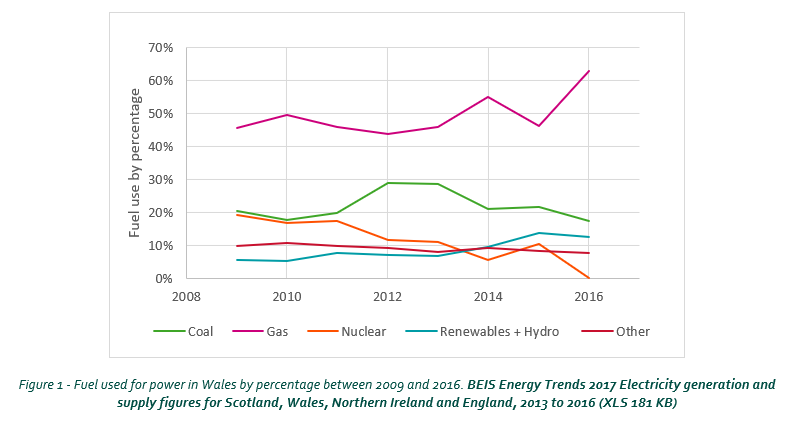 The UK CCC report also shows that transport emissions have grown in Wales with an increase in emissions of 1.6% coinciding with an increased traffic use (PDF, 833KB) of 2.2% between 2015 and 2016. Emissions from non-residential buildings and residential buildings also increased by 5% and 2% respectively over the same period.
The only sector to decrease emissions between 2015 and 2016 was the industrial sector which showed a 9% drop, largely due to an 11% reduction in emissions from the Port Talbot steelworks. The UK CCC notes the difficulty Wales may face in reducing industrial emissions in future due to the prevalence of large energy intensive industries.
Land use change is another area where Wales is lagging behind its targets. The CCERA Committee has previously stated (PDF, 655KB, p26) that without a 'fundamental change in approach' Wales is unlikely to achieve its target to plant 100,000 hectares between 2010 – 2030. Emissions from agriculture also increased by 5% between 2015 and 2016.
Although Wales is behind on targets for overall emissions, land use change and transport, it has led the way in waste. A concerted policy drive in Wales, including statutory targets and better waste collections has boosted the amount of waste that is reused, recycled or composted from 60.2% to 63.8% between 2015 and 2016. The UK CCC believe that Wales is therefore on target to meet its statutory target to recycle 70% waste by 2025. The Welsh Government has also announced it intends to halve food waste in Wales by 2025.
What next?
The UK CCC suggests that the UK as a whole needs to learn from best practise and that by combining national, devolved and local policies it will be possible for the UK to meet its targets. By learning from previous experience and policy, the UK CCC believes that emissions and waste can continue to be reduced while not hindering economic growth. The CCERA Committee has recently published its first report (PDF, 655KB) scrutinising the progress the Welsh Government has made on mitigating climate change. The Welsh Government has also published its consultation on A low-carbon pathway to 2030 (PDF, 2MB), seeking views on what action Wales should take to reduce emissions to 2030. It is clear that if the ambitious targets and carbon budgets are to be met, Welsh Government must accelerate a cross-Government programme of action.
---
Article by Chris Wiseall, National Assembly for Wales Research Service