The Research Service publishes regular negotiation monitoring reports for the Assembly's External Affairs and Additional Legislation Committee, on the latest position papers, announcements and developments in Brexit negotiations of importance to Wales .
Read our latest update here. Negotiations on the UK's Withdrawal: Monitoring Report – 08 March 2018 (PDF, 1,506KB)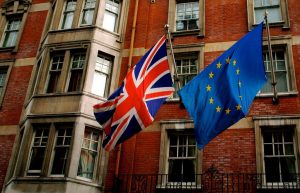 ---
Article by Nia Moss and Manon George, National Assembly for Wales Research Service
Source: United Kingdom and European Union flags by Dave Kellam. Licensed under the Creative Commons.