Some of the statistics in this Research Briefing which was previously published on 21 February 2018 have been updated. The version posted below is the latest version. Apologies for any inconvenience.
This Research Briefing presents data on the attainment of pupils at Key Stage 4. It particularly focuses on the attainment of pupils eligible for free school meals. This is the proxy measure to identify children from income deprived households. The Welsh Government aims to improve the attainment of this group of pupils through its Rewriting the Future strategy and targeted funding in the form of the Pupil Development Grant.
The Welsh Government has also aimed to improve attainment in underperforming schools. It targeted funding and support at particular schools through its Schools Challenge Cymru programme, which ran from 2014 to 2017. This paper therefore also looks at pupil attainment within these schools.
This Research Briefing updates a previous version of this paper, published in November 2017, to incorporate the final 2017 attainment data from the Welsh Government. It is intended to inform the Children, Young People and Education Committee's Targeted funding to improve educational outcomes inquiry.
This paper comments on changes in pupils' attainment in 2017 from previous years, based on the Welsh Government's data. However, some comparisons between years are no longer statistically valid due to changes in performance measures. These changes particularly affect the Level 2 threshold and Level 2 threshold inclusive measures. This Research Briefing therefore also draws on GCSE A*-C attainment rates in the core subjects.
New Publication: Key Stage 4 Attainment Data (PDF, 2.41MB)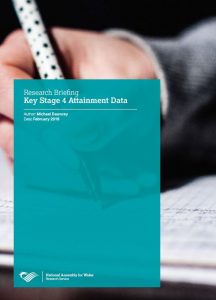 ---
Article by Michael Dauncey, National Assembly for Wales Research Service