This briefing provides an overview of the challenges facing Bovine TB testing following the United Kingdom's decision to leave the European Union (EU). It outlines the key legislation and policies relating to Bovine TB in Wales. It describes the Bovine TB testing arrangements in Wales and highlights the potential impacts to these arising from Brexit.
New Publication: Brexit implications for Bovine TB in Wales (PDF, 378KB)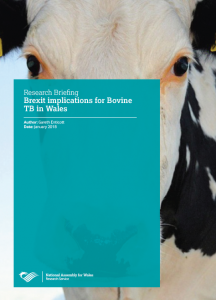 The Research Service acknowledges the fellowship provided to Dr Gareth Enticott by Cardiff University, which enabled this research briefing to be completed.
---
National Assembly for Wales Research Service